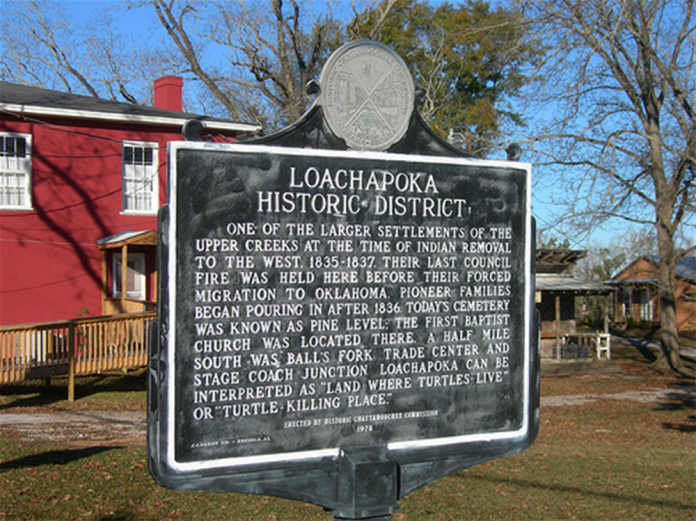 Special to the
Opelika Observer
Pioneer Park in Loachapoka will be open and free to the public all day on July 14, the second Saturday in July. In addition to visiting the museums and open-air exhibits at Pioneer Park, visitors may wish to take advantage of a workshop in pressed flower art offered by Mary Lynn Porter at 10 a.m. Pressed (dried) flowers and needed supplies will be available for use in making greeting cards and other artwork. Participants will also learn the techniques for drying flowers and other greenery for later use. Class will be in the air-conditioned Trade Center Museum.
Come early and take advantage of the many gardens at Pioneer Park to collect some flowers for drying. Dr. Charles will be leading a mid-summer, garden walk 'n talk at 9 a.m. through the Herb and Medicinal Plant Garden, the Pioneer Kitchen Garden and the Crops Garden. See what our pioneer forefathers had to endure just to survive in 19th Century Alabama.
Blacksmiths will be working at the forge, spinners and weavers are upstairs in the Trade Center Museum and someone is always cooking up a meal in the Cook House or outdoors. Pick and shuck your own sweet corn fresh from the garden and cook it for lunch or try some field corn. Our ancestors did not have sweet corn as we do today.
The museums are always open on "Second Saturdays," and The Whistle Stop Players gather to play dulcimers at 1 p.m.
If you would like to learn basket making, there's a group that meets in the morning to work on their baskets, "The Basket Cases." What a great opportunity for Lee County Historical Society members and visitors to enjoy Pioneer Park.
If you have a skill to demonstrate or just would like to help out on "Second Saturdays," just show up and join the fun. Dress up in 19th Century attire if you wish.
"Second Saturdays" are like a mini-Pioneer Day throughout the year. Pioneer Park is sponsored by the Lee County Historical Society, an all volunteer, nonprofit organization founded in 1968 and dedicated to the preservation and presentation of local history.
For more information visit the website leecountyhistoricalsociety.org.