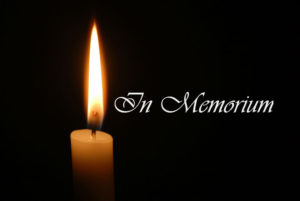 Peggy O'Neal Shugart Lazenby of Opelika died on Mother's Day, May 10, 2020. She is survived by her children Audrey (David Clements) of Omaha NE, Doug (Katrina) of Griffin, Ga., and Allen (Shirley) of Opelika, and by grandchildren Allison, Anna, Kevin, Will, And Skip Lazenby; Carolyn, Peggy and Julia Clements, and Laura Schindler (Jim); by her sister Jane Moody of Johnson City Tn, and her brother Frederick Shugart of Cleveland Tn and several nieces and nephews.
Beloved by her family, friends, coworkers, and church community, Peggy was a longtime member of and tireless volunteer for First Baptist Church of Opelika. She taught Sunday School and vacation bible school to several generations of children.
Peggy was preceded in death by her husband of 55 years, Dr. William D. Lazenby. They met while on a double date in Atlanta Ga. She was a high school biology teacher at Tucker High and Dr. Lazenby was a medical student at Emory. Although the two of them were not on the date with each other, Peggy said by the end of the evening she had decided Bill was the man for her. During the course of the evening Bill had asked his date if she would like to go to church with him and she said no. Peggy immediately volunteered, "I'll go to church with you!" And from that point they were a couple in a committed Christian relationship that was the most important part of her life.
She was a Cub Scout leader, a Girl Scout leader, volunteered at her children's schools and sports and was involved in every good cause that asked her to lend a hand. Peggy was an avid tennis player and her 50 and older team won several regional tennis matches in the Volvo women's tennis tournaments. She took lessons for many years and was a supporter of city recreational programs for children, teens and adults.
After her children were grown Peggy became a realtor and was known as a hardworking and knowledgeable agent. She won many awards while working for J.R White Real Estate, later known as First Realty.
Peggy grew up in Cleveland, Tennessee, and attended Kings College, finishing her education at the University of Tennessee. While she was in college she worked at the atomic energy laboratory in Oak Ridge. She loved science and took every opportunity to teach her children and grandchildren about the world around them, how plants and animals grew and lived and how mechanical things worked.
Her greatest joy was spending time with her family, especially her grandchildren. She was a loving and supportive Grammie to all nine.
A graveside service was held on May 14, 2020 at Mt. Olive Baptist Church Cemetery.
In lieu of flowers, the family welcomes donations to First Baptist Church of Opelika as an expression of sympathy.
Jeffcoat-Trant Funeral Home and Crematory directed.