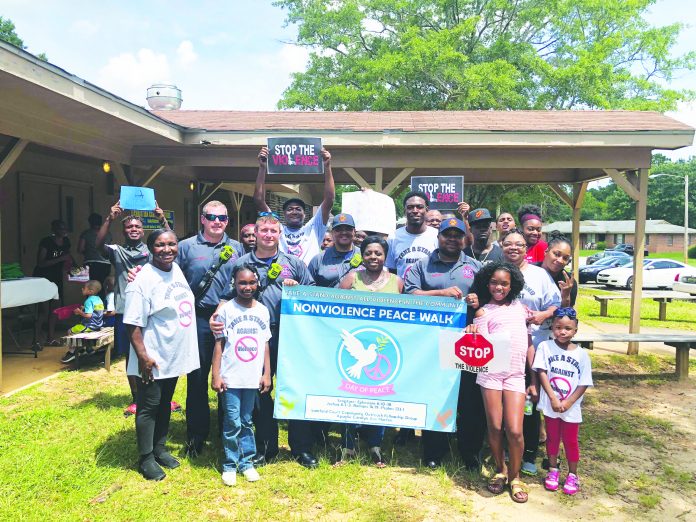 By Michelle Key
Editor
A nonviolence peace walk was held on Saturday to promote peace, love and unity in the community by taking a stand against violence.
Councilwoman Tiffany Gibson-Pitts said that there were more than 24 people in attendance.
"I was happy to be a part of the 2018 Peace Walk that took place on Samford Court. Getting neighborhood people involved in taking a stand against violence is what it will take to begin tackling crime in our community," Gibson-Pitts said.
"We all have something to contribute towards deterring crime and I'm elated that Pastor Caroline Gray, along with many other residents on Samford, have made it a top priority."
District 83 Democratic candidate Jeremy Gray was one of the speakers at the event. "It went really well," Gray said. "About 25-30 people came out to the event."
"I encouraged all the youth to look beyond their situation and dream big. I feel when the youth have confidence they can achieve great things and go to unseen heights. Those youth become our future leaders and they fight to prove wrong the stigma plaguing broken communities by being the example," Gray said. He asked them, "if you are not too young to die then why should you be too young to live?"
The Opelika Fire Department was on scene and showed off their equipment to the children. Gray, Gibson-Pitts, Pastor Anne Gray and Joseph Murray from Way 2 Serve Ministries all spoke during the afternoon, reiterating the need for community support and mentoring. Citizens were also given the opportunity to voice their concerns.
The event concluded with lunch and a school supply giveaway.