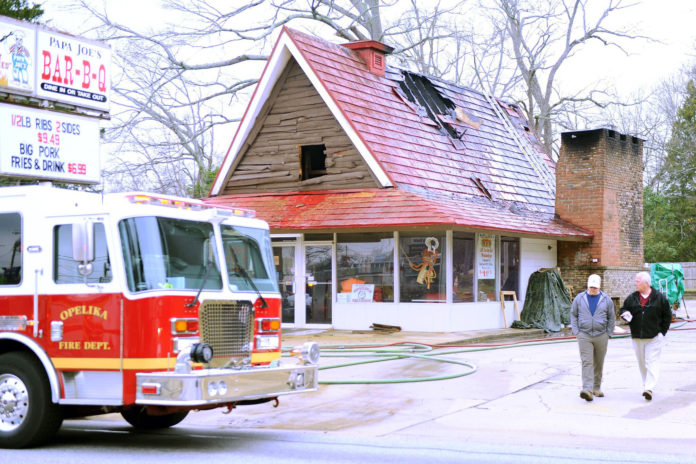 By Morgan Bryce
Staff Reporter
Following Sunday's fire that engulfed the attic and roof of Papa Joe's Bar-B-Que on Second Avenue, store owner Vickie Anderson said she wants to assure her loyal patrons and customers that its closure is not permanent.
"Our plan is to rebuild and reopen as soon as we can … as soon as we can find out what we've got to work with here," Anderson said.
The Opelika Fire Department received a call at 1:51 p.m. Sunday afternoon regarding the fire, and were able to extinguish the blaze a short time later. The exact cause of the fire is under investigation by the fire department.
Anderson said the leftover meat from the restaurant's freezer was given to her cousin Gail Webster, who owns and operates Zoe's Ice Cream Delight in Spring Villa.
"(After the fire) Of course I was thinking about the food loss and the money and the financial situation … so I called my cousin Gail to see what we could do," Anderson said.
Due to space constraints, Webster is selling the leftover meat as sandwiches at Zoe's, preparing it in the classic Papa Joe's style and covering it with its beloved sauce. Anderson said that there is a limited supply, and is being sold on a first-come, first-served basis.
Zoe's is located at 2757 Ala. Highway 169, Opelika, Ala., 36804.
Be sure to check the Observer for a feature story about Papa Joe's and its future in the coming weeks