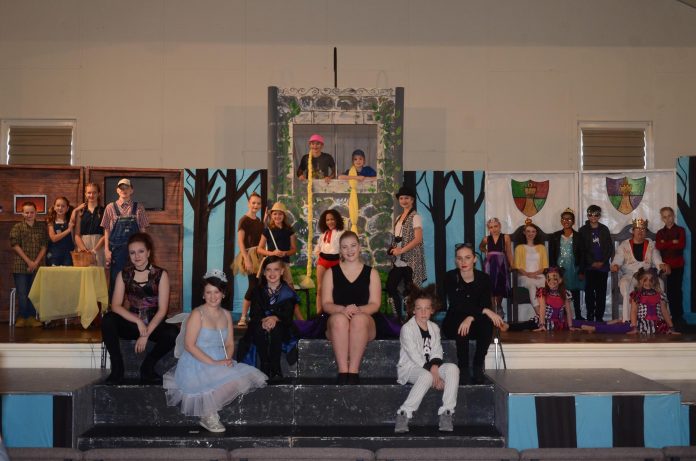 By Michelle Key
Editor
The Opelika Theatre Company's Junior Cast took the stage last weekend and rocked the audience with an energentic and enteraining rendtion of "Hairy Tale Rock" by Charles Lovett.
With a cast of 24 members, the script offered an opportunity for every member to have their moment in the spotlight. The musical is set in the woods of Wychwood, where the resident witch has decided to evict the peasant tenants. Their children, Elton and Earnestine, embark on a mission to raise enough money to save their meager home. Instead of selling their prized possessions for money, they trade them for five magic beans.
Meanwhile, Rapunzel and her brother Bill have been banished to an enchanted tower because they have refused to cut their extremely long hair. They must either cut their hair or find true love in order to be free from the tower.
In another part of the kingdom, the prince Rupert and princess Iphigenia have pushed their parent's patience to the limit with their obnoxious and rude behavior. As punishment, they are sent to the wild woods to learn some manners, and to learn about sacrifical true love.
While the story line seems a bit dark and deep for a children's play, the antics of the characters make it a fun and lively performance. In their typical, bossy ways, Rupert and Iphigenia decided that Rapunzel and Bill must fall in love with them, setting them all free from the confines of the forest. However, Elton and Earnestine, are the ones that display the act of sacrifical love by giving up the last chance of saving their home – the magic beans. They plant the beans in hopes of growing some food for the pair in the tower.
It is this act of giving that leads to Rapunzel and Bill falling love with Elton and Earnestine, leaving the prince and princess wondering where they went wrong in their quest to find love and better behavior.
In the end, Rapunzel and Bill decide to cut their luxorious locks and sell them, raising enough money to save the home of their soulmates. It's a happy ending for everyone but the Rupert and Iphigenia who end up in the enchanted tower where they will have to put up with each other's bad attitude.
About OTC
Opelika Theatre Company was founded in August 2015 as a community theatre group working under the Community Foundation of East Alabama.
OTC received their nonprofit status in early 2017 and is now operating independently. In just three years, the company has staged seven plays, including "The Odd Couple," "Steel Magnolias," "Little Miss Firecracker," "Emma," "Wonderland," "Dashing Thru the Snow" and "Hairy Tale Rock," plus eight murder mystery dinner theatre events. The group also performed at "Christmas in a Railroad Town" in 2016 and has made several costumed appearances at local events throughout the area.
The Mission Statement
"To empower, enlighten, and involve the community to stimulate and develop their inner creative talents in writing, acting, music, dance, design, and leadership by providing quality entertainment for our communities; and to carve paths not yet traveled."
Future Plans
The rest of 2018 will be business as usual for OTC. They will be offering acting classes starting in early Sept. According to Executive Director Marty Moore, classes will be taught in improv, scene study and musical theatre. "These classes will focus on developing confidence, creativity and working as a team," Moore said.
Classes will be limited in size in order to provide more 1-on-1 interaction. Tuition will be $40 per month plus a $25 registration fee that includes a t-shirt and materials. Call Moore at 334-663-2593 or 334-663-4480 for more information and to register.
There will be a parent showcase following the completion of classes in Nov. or Dec.
In October, OTC's Murder Myster Players will be performing at Niffer's at the Lake in Lake Martin. Tickets will go on sale in September. The group is also looking at performing a "Hogwarts" themed murder mystery play later in Nov. as well.
To sign up for classes or to volunteer with the organization, please email opelikatheatreco@gmail.com or visit www.opelikatheatrecompany.com.