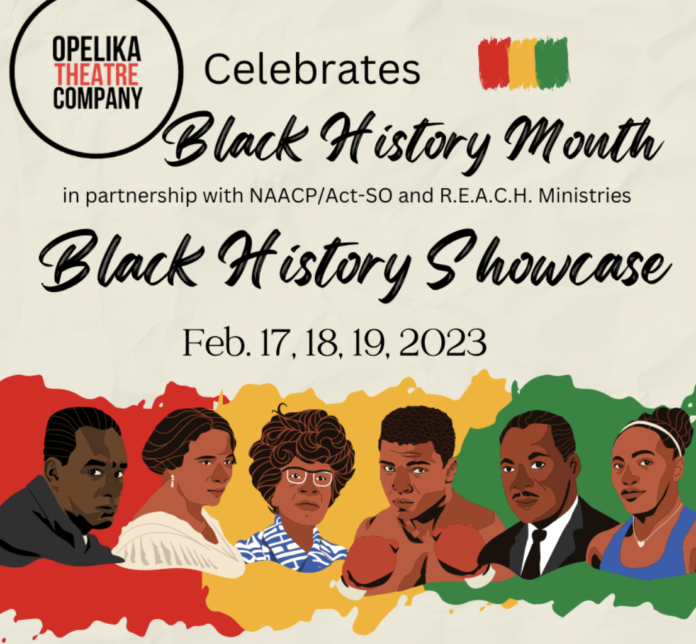 CONTRIBUTED BY OPELIKA THEATRE COMPANY
OPELIKA —
The second annual Black History Showcase produced by NAACP-Act/So, R.E.A.C.H. Ministries and Opelika Theatre Company (OTC) kicks off this weekend, Feb. 17 through 19, with an amazing local and national talent lineup.
The lineup for Friday night features Opelika native Brandon Dewuan, along with dancers from Make Your Move Performing Arts, master tapper Danielle Pierce from Memphis, Tennessee, Jackie Jones, Rosalyn Thomas and a special skit written by Lynda Morris with Novelette Seroyer, Beatrice Allen and Ella Howard that will be performed all three shows.
Saturday will be a jam-packed day. Donald Frison, nationally acclaimed choreographer, performer and current resident choreographer for West Coast Black Theatre Troupe, will be conducting a special free workshop for kids ages 6 to 18 in the community. The workshop will be from noon until 3:30 p.m. All the kids participating in the workshop will be able to perform with Frison at the Saturday night and Sunday shows.
At 5 p.m., guests can shop with local vendors until the show begins at 7 p.m.
Saturday night's show features recording artist Demetriace "Chee Chee" Jordan, Donald Frison, dancers from Make Your Move, Katherine Jones, and Natasha Staples-White.
Sunday's lineup includes Jackie Jones, Rosalyn Thomas, Donald Frison, Greater Peace Male Church Choir, Make Your Move dancers and Danielle Pierce.
Admission to all shows and workshops are free. Donations will be accepted.
Showtimes are 7 p.m. on Friday and Saturday and a matinee on Sunday at 2 p.m. Even though admission is free, you must make reservations through Eventbrite or by going to www.opelikatheatrecompany
.com.
Black History Showcase and workshop will be held at Southside Center for the Arts at 1103 Glenn St. in Opelika.