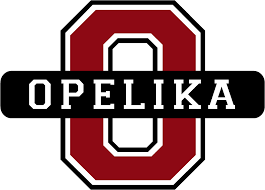 By D. Mark Mitchell
The Opelika softball team completed its 2018-19 season in the AHSAA East Regional in Oxford last week.
Despite battling rain and lightning, the double-elimination regional tournament was completed.
The Lady Bulldogs opened the tournament with a 9-2 loss to Hillcrest. The Bulldogs battled in game two, beating Stanhope Elmore 7-4 while advancing to round three. Chelsea dropped game two in the winner's bracket, moving them to the loser bracket to play Opelika. The Dawgs were eliminated by Chelsea 8-0 to end their season.
This was the third trip to the regionals in four years under Coach Tina Deese. The former Auburn University coach informed OCS that she will retire from public education at the end of this school year.
Deese brought a new fresh approach the program – no-nonsense, hustle, punctuality, discipline, work hard and pushed for her players to enjoy the game.
WEST RIDGE PARK
As the Dixie Boys Baseball League Director, I see West Ridge Park on a regular basis. No matter the time of year, the park always looks great and ready for action. I mention this because that should not be taken for granted.
ESG Team-Opelika President Michael Hillyer and his team strive to keep the park in tip-top shape.
Bruce Boyd is the head of a maintenance crew consisting of: Doug, Willie, Robert, Bobby, Logan, Thomas, Elmer and others that help when necessary. The next time you see these guys, tell them thank you!
OHS SPRING GAME
Opelika High School's football team is in the middle of spring training. The Bulldogs will scrimmage Valley tomorrow night at 6:30 p.m. at Bulldog Stadium. The two teams will play a controlled scrimmage with no live special teams. The two teams will make an effort to play every player if possible. Both schools' ninth grade squads will play first.
Opelika completes spring practice with a scrimmage game against Valley.
The ninth grade team (up-and-coming eighth graders) starts at 5:30 p.m. Each quarter will be eight to 10 minutes long with a running clock.
Following the ninth grade game, Valley and Opelika will scrimmage.
The first half will be played like a real game against number "ones." The second half will be for the all players including the JV to play.
Exceptions – all kicking will be "dead," meaning no rush on kicks, no blocking kicks and no returning kicks. Kickoffs will be automatically placed on the 30-yard line and punts will be placed where they are fielded.
Starting in his second season as head coach, Speakman is adamant about making sure all 120 players get an opportunity to participate in the scrimmage.
Kickoff for the ninth grade team is set for 5:30 p.m. and varsity at 6:30 p.m. at Bulldog Stadium. Fans can listen to the varsity game on WKKR 97.7 Kicker FM beginning at 6 p.m.
MOORE STADIUM/ FLORAL PARK
Opelika Mayor Gary Fuller, during an appearance on the On the Mark radio show last week, mentioned that a group of investors were interested in purchasing Moore Stadium from the city.
"If this happens, we plan to re-develop Floral Park. Put a couple of football fields in, etc.," Fuller said. "Whatever we need for our youth." No timeline has beeb given.
CORRECTION
Two weeks ago in my column, I wrote that Roger Belyue was hired by OCS as the new softball coach and teacher. Rather, it is Randy Belyue who is the new Opelika softball coach!
I watched Randy and Roger grow up, playing baseball and other sports. Both were good young men, gifted with the ability to be talented athletes. Roger is an Auburn policeman while brother Randy is coaching softball at Opelika.
My apologies to Randy and Roger! Heck, I am not sure who was hurt the worse by my mistake…
Coach Randy Belyue was officially announced by OCS in a press release Tuesday.
D.Mark Mitchell is sports director for iHeart Media, Alabama Dixie Boys State director and vice president of the A-O Sports Council.