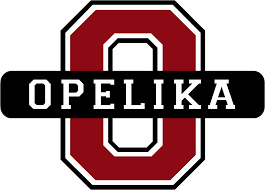 By D. Mark Mitchell
SOCCER
Opelika girls and boys Soccer teams were busy last week, playing at home and in Foley.
GIRLS
Opelika defeated Troup County 10-0 in the home opener last week at the W. James Samford Soccer Complex. Estefany Alba scored three goals while Eleanor Wilson, Amiya Brown, Megan Moon scored two goals apiece. Abby Noon scored one goal. The team travelled to Foley for the "Southern Shootout Tournament" last weekend. The lady Bulldogs split matches, beating Daphne 2-1 and losing 4-1 to Cullman. Amiya Brown netted both goals in the win over Daphne. Kaitlyn Goodman scored against Cullman after an assist from Megan Noon.
BOYS
Opelika opened the season with a 6-1 win over Troup County at home. Yordy Chavez scored two goals to lead the Bulldogs. Opelika finished 1-1-2 at the "Southern Shootout" in Foley last weekend. The Bulldogs beat Theodore 2-1 behind Caleb Rujana's two goals. Chavez scored the lone goal against Baldwin County and Murphy, both 1-1 ties. Marshall Meyers had two assists and the lone goal against Theodore, in a 2-1 loss.
GIRLS ADVANCE, ELITE 8
The OHS girl basketball team (24-6) defeated Eufaula 74-63 last Friday at the 6A Regionals Basketball playoffs in Montgomery. Both teams started slow because of the 9 a.m. tipoff and the college-style basketball court. The Lady Bulldogs picked up the pace in the second half and expanded the lead to 16 points before winning by 11. Kaitlyn Bryant scored a game- high 22 points. Claire Worth, Ananda Hughley and Haley Sanders scored 11 points apiece.
Opelika played Carver in the finals of the Regional yesterday. The girls defeated Carver 61-54. The Lady Bulldogs will be headed to the 'Final 56' for the second straight season.
TENNIS
The Opelika boys and girls tennis teams opened the season with losses to Columbus High. Following is a roster for both squads:
Boys – Ben Estes, Parker McKay, Dawson Rush, Jack O'Quinn, Jack Whatley, Andrew Hudson and Baker Rowton.
Girls – Raeden Gagliano, Laney McTier, Hope Bearden, Kalyn Yountz, Kathlene Trotter, Lily Kucik, Victoria Tufts, Luci Long and Laura Tyson Daffin.
OHS
ATHLETICS –
UPCOMING
• Feb. 20 Girls v. Brookstone at 4:30 p.m. at Sportsplex.
• Boys v. Brookstone at 5 p.m. at Brookstone in Columbus, Georgia.
• Feb. 21- Junior Varsity Girls Soccer v. Pacelli at 4:30 p.m. at Sportsplex
• Varsity girls v. Pacelli at 6 p.m. at the Sportsplex
• Boys v. Park Crossing at 5 p.m at the Sportsplex
• Feb. 25 varsity girls v. Brookstone at Brookstone at 4:30 p.m.
• Boys v. Smiths Station at 5:30 p.m. at Sportsplex
OPELIKA
BASEBALL
The Opelika High School varsity baseball team opened their season with losses to Enterprise and Smiths Station.
In game one of the day's doubleheader, the Wildcats defeated Opelika 9-1. No statistics or information from that game was provided.
In the second game, the Bulldogs took an early lead 2-0 against Smiths Station in the first inning. Zane Faulk hit a solo home run in the second inning to pull the Panthers within a run.
Opelika answered with three runs in the second. Jackson Craft knocked in Brody Davis and Trent Fields belted a 2-run home run, extending their lead to 5-1.
The Panthers rallied for five runs to lead 6-5 heading into the 7th. The Bulldogs loaded the bases but were unable to score in the seventh.
OPELIKA DIXIE BASEBALL
Opelika Dixie Youth is now registering for the 2019 season. Anyone interested in playing baseball between the ages 7-12 years old can register online at www.opelikadixieyouth.com.
DIXIE BOYS BASEBALL
Opelika Dixie Boys Baseball will hold registration for the upcoming season in March. Anyone 13, 14 or 15 years old can register at the Opelika Sportsplex during regular business hours. Registration runs through March. For more info, email D.Mark Mitchell at foxonthemark@yahoo.com.
D. Mark Mitchell is sports director for iHeart Media, Alabama Dixie Boys State Director and vice president of the A-O Sports Council.