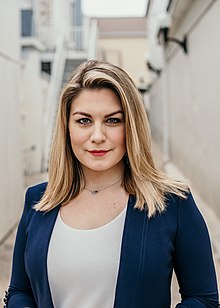 By Morgan Bryce
Associate Editor
Unseating Republican incumbent Mike Rogers in the November midterm elections is the goal of Opelika native Mallory Hagan, the Democratic nominee for Alabama's 3rd Congressional District.
Hagan defeated Dr. Adia Winfrey by a 30 percentage-point margin in the June 5 primaries, punching her ticket to a November tilt with Rogers, who has held the office since 2002.
Following is a brief background on Hagan and details of his first successful splash into politics.
Background
An Opelika native, Hagan made a name for herself and her city when she was named Miss America in 2013, a journey that she said would prove invaluable to her future interest in politics.
Shortly after being named "Miss America," Hagan said she was lobbying for restored funding for the country's child advocacy centers which had been slashed out of the 2014 budget.
"My time as Miss America showed me how powerful collective action can be. In 2013, I worked with the National Children's Alliance (among other organizations) to lobby Congress on behalf of our kids," Hagan said. "Ultimately, we were successful in restoring $18 million dollars. I have continued that work since then. I knew then that, someday, I would run for office … (but) I never expected that day to be today."
Hagan later returned to the area and worked as a television reporter and later anchor for the Columbus NBC affiliate WLTZ 38.
Running for Office
After being approached by a group of concerned Lee County citizens about running for the position, Hagan said her initial response was "no." However, seeing only four women under the age of 40 in Congress proved to be the motivating factor in her decision to run.
Hagan held a press conference Feb. 6 at her mother Mandy Moore's Opelika dance studio "Make Your Move" to announce her candidacy.
While campaigning, Hagan said she heard a litany of complaints about Rogers and his lack of accessibility from constituents across the 13-county district.
"Time and time again, the people of Alabama's 3rd District tell me that Congressman Rogers is not working for or listening to the people. For 16 years, he has refused phone calls, denied constituents town hall meetings and failed to pass any meaningful legislation," Hagan said. "He is a career politician who takes corporate money and spends little time in Alabama. It's time to change that."
"A grassroots movement"
Without significant funding, Hagan said she has relied on energy, enthusiasm, time, vigorous campaigning and word-of-mouth to spread her campaign and platforms.
"Our campaign is a viable one, and I have no doubt in my mind that this is the opportunity to take corporate money out of politics and give the power of our representation back to the people of Alabama. I am a full-time candidate and I intend to leave no stone un-turned," Hagan said. "We are working 24/7 to show our friends and neighbors that I am the better choice for representation when it comes to the people of Alabama. We are focusing energy on our college campuses to make sure that all of Alabama's people exercise their right to vote."
Opelika will serve as a stop on Hagan's campaign tour throughout the district. Following is a current list of endorsements that Hagan has received throughout her campaign:
Alabama Democratic Conference
Alabama New South Alliance
ALF-CIO Central Alabama Labor Foundation
End Citizens United
Jaleel White
Lilly Ledbetter
Retail, Wholesale and Department Store Union.
For more information or to donate to Hagan's campaign, visit www.haganforhouse.com.