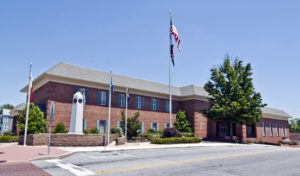 Special to the
Opelika Observer
The City of Opelika invites the public to its annual celebration of Veteran's Day Nov. 10. The morning of activities begins with a breakfast from 8 – 9:45 a.m. for veterans and their families at Jahvon's – A Little Taste of Heaven, located at 2356 Pepperell Parkway in Opelika. The breakfast is free for all Veterans; however, donations of $5 will be taken, to be given to the Wounded Warrior Project for Alabama Veterans.
At 10 a.m., the Veterans Day Service will take place at the Veterans Memorial Monument at City Hall, featuring Guest Speaker, Vietnam Veteran James F. Hughley of Opelika. (If it is raining, the services will be inside City Hall in the City Council Chambers.)
Opelika native James F. Hughley was drafted into the Army in 1967. He started basic training at Fort Benning in Columbus, Ga. He attended Advance Infantry Training (AIT) at Fort McClellan in Anniston, Ala., and was stationed in Vietnam with the 25th Infantry Division. After, he was with the 4th Infantry Division.
In 1967, he started a tour in Vietnam, after only three months of service. While there, he was wounded three times and awarded a Purple Heart with each injury. He also received the Bronze Star Medal for his heroic achievement and service in a combat zone. He also received numerous medals including The Army Commendation Medal, President Unit Citation, Vietnamese Cross of Gallery, among others. This completed Hughley's combat tour.
After discharge, he became active and is a life member of the American Legion, the Veterans of Foreign Wars (VFW) and the Disabled American Veterans (DAV). He is also a member of the Lion Tamers Social and Civic Club, where he has served as past president and currently holds the position of treasurer.
In October 1969, Hughley returned home and was stationed at Fort Benning, Ga. He attended Opelika Technical College, which is now Southern Union State Community College, receiving a diploma in Auto Mechanic and Auto Body shop. He worked at West Point Pepperell, Uniroyal Goodrich Michelin, and in 2009 retired from the Lee County Board of Education as a diesel mechanic. While working at Uniroyal, he opened his own business, Hughley Garage, in Opelika, which is still open today.
Hughley is married to Gail Thomas. They have six children, 20 grandchildren and four great grandchildren. He is a longtime member of Green Chapel Missionary Baptist Church, where he serves as a trustee and treasurer of the trustee board.
Following the services at City Hall, the Museum of East Alabama, located at 121 South 9th St. in downtown Opelika, will host a special reception at 11 a.m. to honor all veterans.
The city hopes you will join us as we take the time to honor all who have served.