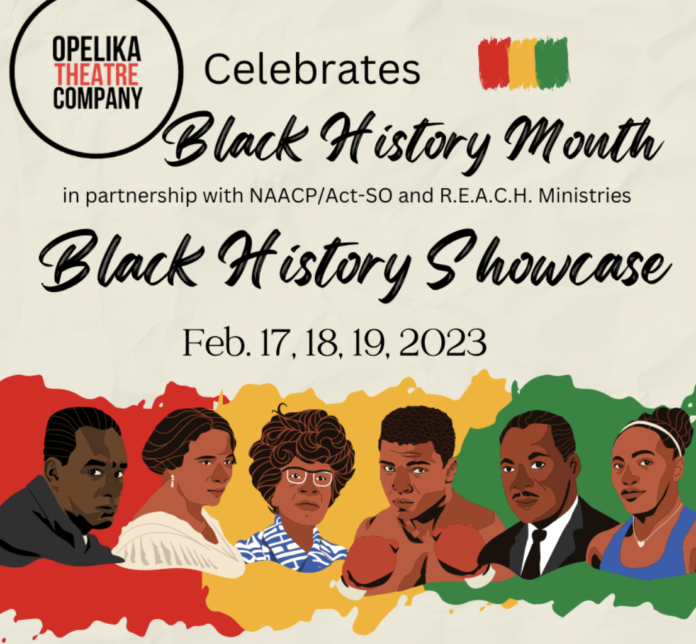 CONTRIBUTED TO THE OBSERVER
OPELIKA —
Opelika Theatre Company (OTC) is partnering with NAACP/ACT-SO, & R.E.A.C.H. Ministries to produce the second annual Black History Showcase. This showcase was very successful when it debuted in February 2022, so it has been expanded to a three-day event for 2023.
The Black History Showcase is an outreach project open to the community at no charge to educate, inform, celebrate and introduce Opelika, Auburn, Lee County and surrounding communities to the history and importance of Black artists throughout the birth of this nation.
The Black History Showcase is bringing in two performers/choreographers to conduct dance workshops for children in the community. The children participating in the workshop will perform on stage at one of the showcase performances during the event. Included in the three-day event will be a Vendors Market on Saturday, Feb.19 at Southside, from 10 a.m. to 3 p.m., displaying wares from different vendors.
Admission to the showcase performance is free with online reservations. Donations will be accepted. Reservations open in February 2023.
In advance of OTC's second annual Black History Showcase, the company will be performing its newest play "Young Sherlock."
"We wanted to do Young Sherlock because it was a non-musical play that allowed the kids to just hone in on their acting skills and techniques that they are learning in OTC's O-ACT acting classes," said OTC director Marty Moore.
"Young Sherlock" has been in the works since October 2022, with cast member rehearsing twice a week.
"We started rehearsing 2 days a week the middle of October — which seems like a long time, but factoring in fall breaks, Thanksgiving and Christmas Break of 2 weeks — it really wasn't that long of a rehearsal time," Moore said.
The show boast 27 cast members which range from ages 5 to 14. Twelve-year-old Owen Mulder plays Young Sherlock, and has been in the O-ACT program for about nine months. Grace Brandwein, 13, is a newcomer to OTC and plays the female lead — Mrs. Butterworth. Carey Lovell, 10, plays Madame Lulu, her psychotic psychic sidekick.
"It's a rollicking funny show and these young actors are killing it," Moore said.
The show runs Jan. 20 and 21 at 7 p.m. and Jan. 22 at 2 p.m. Tickets for adults are $12 and children $8.