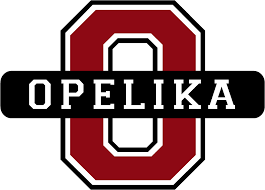 Special to the
Opelika Observer
Nearly 400 schools in the state of Alabama applied to the Bicentennial Grant, with 200 of those being selected, including Opelika City Schools system members Carver Primary School and West Forest Intermediate School.
Each school was provided $2,000 through the grant, with monies being used to create outdoor classrooms at the two schools.
"Sweet Home Opelika" is the theme of the Bicentennial Civic Community involvement part of this grant program. This has been enriched and promoted in the schools by lessons which included using an Opelika Theme Book and "Color Me Opelika" coloring book in counseling classes, children creating Opelika and Alabama related art in art classes, and involving civic leaders and parents in four programs throughout the year to teach the students more about the community they live in.
First, a "Sweet Home Opelika" program where Mayor Gary Fuller, Councilwoman Patsy Jones, Community Relations Director Leigh Krehling, Dinah Motley from the Chamber of Commerce, Rosanna McGinnis from Lewis Cooper Jr. Memorial Library, along with Glenn Buxton, Kathy Penton and Jean Heath from the Museum of East Alabama shared about these city organizations and how they serve the community. Second, an "Acts of Kindness" program where Tipi Miller of Keep Opelika Beautiful, McGinnis and Tim Cooper from the library, and Officers Burdette, Whaley and Williams of the Opelika Police Department and numerous Opelika Fire Department reperesentatives shared about their organizations and how they serve as community helpers. The children created trash bags to collect litter, book marks to give out to patrons of the librar and made Christmas cards for the OPD and OFD to show acts of kindness themselves. Third, each school had a Career Day where community members and parents Adria Staton, Brittany Avery, Kayla Southard, Dorcas Woody and Tony Norton shared about their respective careers in the community and children dressed up in outfits suitable for their desired future careers.And fourth, each school had a Multicultural Day where community members and parents shared their respective cultures to learn about the diversity that exists in our wonderful schools and community. Event organizers expressed gratitude to Oslyn Rodriguez of Backpacks International, Shane Mills of Kage Fit, Arturo and Krystal Reyes of Laredo's and all of the school system's amazing parents for their contributions to the multicultural programs.
The Bicentennial programs will culminate with "Sweet Home Opelika" Field Trips where 20-Under-40 participants will serve as tour guides for the students as they visit many of the landmarks and historic places in Opelika they have learned about this year. Carver Primary will have their field trip on May 26 and West Forest will have their field trip on May 29 touring Southside and Northside Opelika while making stops at the Museum of East Alabama, Lee County Courthouse and Lewis Cooper Jr. Memorial Library.
Parents, teachers and students have participated in two outdoor classroom work days, one in the fall and one in the spring to clean up the campus, build benches and canopy areas, hang bird houses and feeders and plant vegetables and flowers in the gardens.
A "Sweet Home Opelika" T-shirt design contest was held in February at each school. A panel of teachers, parents and community leaders voted on the designs to choose a winner for each school. Victory Designs, Mayor Gary Fuller and the Opelika City Council have graciously provided T-shirts for staff and students to wear on their field trips with the winning design for each school.
A dedication of the outdoor classroom was held at West Forest last week and at Carver on Friday, starting at 1 p.m. Of the 200 schools that were given grants, 21 schools will be chosen as Alabama Bicentennial Schools of Excellence in the fall.