By Harrison Tarr
For the Observer
OPELIKA —
With the month of May rapidly approaching, the Opelika women's soccer program is just three games away from wrapping up what has been a noteworthy regular season in school history. The Dawgs are 10-3 following their victory over Valley on Tuesday night and took advantage of the opportunity to send off their seniors in the best way possible.
Head coach Jacklyn Button was excited to compliment her trio of seniors — Phoebe Darcey, Fatima Santamaria and Arizela Ambrocio — for their play on the field while simultaneously expressing her gratitude for the group's commitment to the program dating back to their pre-high school years.
"We have had these seniors since middle school," Button said. "I think one thing is they've just been consistent throughout the program; Darcey played on varsity as one of our goalkeepers starting in the seventh and eighth grade so we've had her be a constant presence as a voice and presence in the back has been phenomenal."
While Darcey has been a member of the program for six years, Button was sure to point out that Santamaria has been equally as committed to the development of OHS soccer.
"(Santamaria) joined us in the eighth grade," Button said. "Just like (Darcey), she's been a constant presence, has worked through our defense as starting center defender and I think they just bring a lot of confidence and control to the game. They give our younger players someone to look up to."
The long term duo is joined by Arizela Amrocio, a standout leader and offensive presence for the Dawgs; her head coach was excited for her return to the team following the pandemic.
"(Ambrocio), with COVID-19 and all that, wasn't with the team last year," Button said. "But she's back on the team this year so we're excited to have her back. Everyone kind of rallies around her, getting to see her score goals and everything has been exciting for us this year."
Behind Ambrocio and the rest of the Bulldog offensive attack, Button's squad has seldom struggled to put the ball in the back of the goal throughout the 2022 campaign; the coach has actually had to remind her group to take more shots when given the opportunity.
"With the offensive focus, we've just got to keep connecting passes and looking for those opportunities," Button said. "Sometimes we say we're almost too unselfish. We get in front of the goal and it's 'oh I'm going to pass it over here.' I try to teach them that, yes there's times where you play it off if you don't have a good angle but kind of trying to preach to take your shot if you've got that opportunity."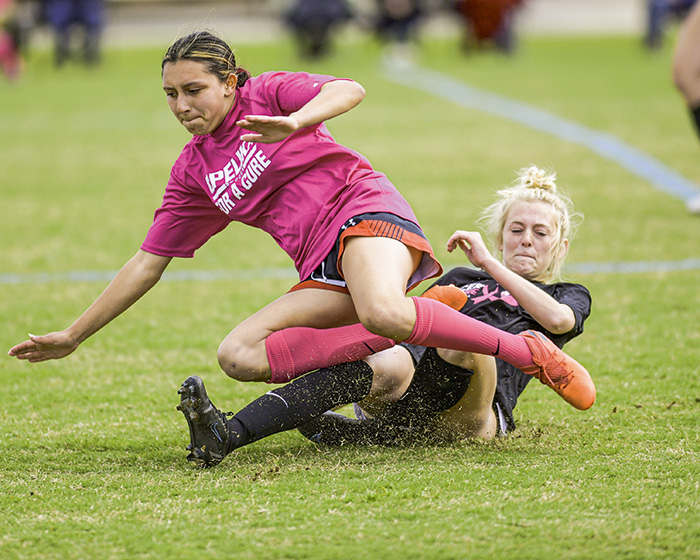 Button added that — in teaching her squad to take more shots — she has implemented a drill which requires a team-wide rep of burpees for each squad not put on goal.
As the Dawgs look forward, the group is presented with the opportunity to win 13 games in the regular season, a feat which has not been achieved since the historic squad in 2019; Button is certainly aware of the stakes.
"I really think this has been a special season for us," Button said. "I've been really impressed with how hard we've worked and I think it's great to see all the preseason work really pay off throughout the season."
When given the opportunity to reflect on the 2022 campaign, the head coach noted that she is both proud of her group for their accomplishments this year and excited for the program going forward.
"It just really gives me hope for the future," Button said. "And for these girls, kudos to them for how hard they've worked this season and they just get to kind of play out throughout these games we've had."
The Dawgs will be back in action when they travel to Smiths Station to take on the 10-win lady Panthers in a heated rivalry on the pitch Thursday night. Kickoff between the two foes is set for 5:30 p.m. CST.