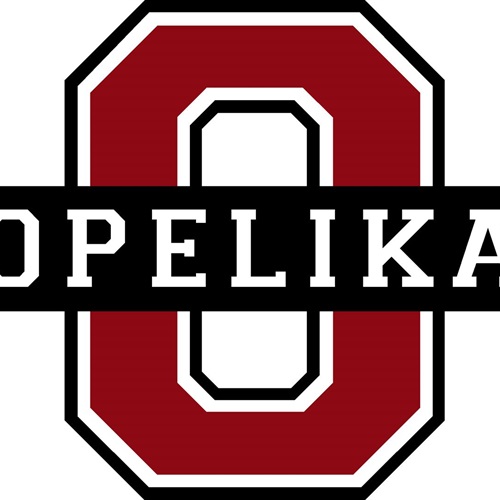 By D. Mark Mitchell
The Opelika High School football team (3-0 overall, 1-0 in region) defeated Selma 23-0 in the region road opener at historic Memorial Stadium last Friday.
Opelika opened the game on offense, driving into Saints territory. Senior placekicker Marshall Meyers nailed a 37-yard field goal to give Opelika a 3-0 lead.
Eric Watts scored the game's first touchdown on the next offensive possession on a 3-yard run. The Bulldogs led 10-0 after Baker Rowton added the PAT.
Watts led the offense, rushing for 124 yards on 14 carries and two TDs. Kani Kellum scored the the other touchdown.
Quarterback Brody Davis was 12-of-24 passing for 154 yards and an interception.
J.D. Tolbert added 40 rushing yards.
Omar Holloway caught 6 passes for 108 yards, including a 70-yard reception.
The Opelika defense continued to dominate, holding Selma to 31 yards in the first half.
Anthony "Dino" Martin led the team with 7 tackles and Tylik Hambrick added 6 tackles.
Selma could not move the ball offensively due to the Bulldog defense.
Neither team scored in the second half.
OPELIKA
HOSTING
WETUMPKA
Opelika will host Wetumpka (2-1 overall, 1-0 in region play) Friday night at Bulldog Stadium.
The Indians beat Calera 35-7 last Friday for their first region win.
Earlier this season, Wetumpka beat Fairhope 35-24 and lost to Dothan 54-41 in week one.
The winner of this game has a good chance of winning the region championship. Opelika leads the series 4-1, including the first game in 1938. The last three games have been decided by a total of 5 points. In 2016, Opelika won 38-37, Opelika won 20-19 in 2017 and Wetumpka won 30-28 last year.
This will be the fourth-straight road game for the Indians, while the Bulldogs have played two of their first three games inside the friendly confines of Bulldog Stadium.
Opelika's offense will attempt to move the ball against a defense that has allowed 85 points in three games. The Indian offense has scored 111 points in three games.
All three phases are important, but this matchup will be a key factor in the game.
The game will be broadcasted on 97.7 Kicker FM, online at kickerfm.com and on the iHeartRadio app. Airtime is 6:30 p.m.
OHS
VOLLEYBALL
The Opelika Lady Bulldog Volleyball team is 3-5 after competing in Auburn High's "Party on the Plains Tournament" last weekend.
Opelika beat Smiths Station 2-0 and Troup County 2-1. Harris County, Tuscaloosa County and Trinity defeated Opelika.
The Lady Bulldogs' volleyball team will host Sylacauga on Sept. 12, with first tip set for 4:30 p.m.
CROSS COUNTRY
Opelika's cross country team has participated in one meet, Aug. 28 at Trinity in Montgomery.
They will host the annual "Opelika Invitation" Sept. 27 at the Opelika Sportsplex.
If you have something you would like me to write about, email me at foxonthemark@yahoo.com.
AHSAA INSTANT REPLAY UPDATE
The Alabama High School Athletic Association is in the second year of a three-year "experience" granted from the NFHS (National Federation of High Schools). All NFHS member schools can use instant replay during championship games.
The AHSAA released a report after week one shows no reversed calls by replay. Four calls were challenged last week with no calls being overturned. A total of 10 challenges have been reviewed with two being overturned. DVSports Instant Replay says 20% of challenges are reversed.
AHSAA Director of Officials Mark Jones talked about instant replay involving a couple of games, "East Limestone at West Limestone had one challenge on a catch in the end zone, after review the play stood as called," Jones said.
Locally, Auburn, Central of Phenix City, LaFayette and Opelika use DVSports instant replay.
D. Mark Mitchell is sports director for iHeart Media, Alabama Dixie Boys State Director and vice president of the A-O Sports Council.