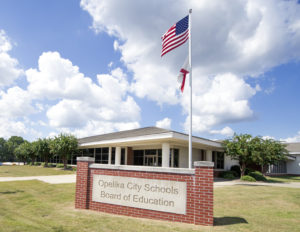 By Donna Williamson
Opelika Observer
The Opelika City Schools' Board of Education approved a proposed $54 million budget at its September meeting. The starting equity balance for Oct. 1 is $11.9 million. For fiscal year 2018, total revenues and other fund sources are projected to be $54.71 million with total expenditures and other fund uses of $56.11 million, resulting in a combined total equity ending balance of $10.51 million.
According to Chris Harrison, chief school finance officer, the Opelika school system has 580.50 total personnel units, with teachers comprising 318 of those units. Of the total personnel units, 422.70 are state funded, 85.14 are federally funded, and 72.66 are locally funded.
"Local money is critical," said OCS Superintendent Mark Neighbors.He added that Opelika is very fortunate to have so much local support.
The general fund's projected ending balance is $8.14 million, which will result in a 2.33 month reserve in the general fund. A one month reserve is required by the Alabama State Legislature. "We are in good shape," Neighbors said.
Expenditures and other fund uses in the general fund are $41.9 million for 2018 as opposed to $39.8 million for 2017. Instructional services and instructional support represent 79.3 percent of the general fund projected expenditures.
Board members also voted to give Neighbors a 6-percent salary increase, along with a 3-percent salary increase for Harrison.
Neighbors requested that the board waive the school days on Sept. 11-12 due to hurricane/tropical storm Irma. Because the governor declared a state of emergency, no make-up day is required.