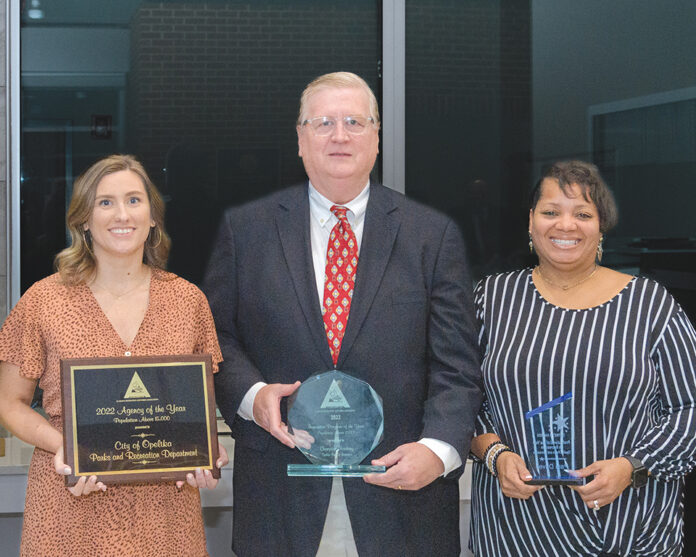 CONTRIBUTED BY
THE CITY OF OPELIKA
OPELIKA —
This year the ARPA District 5 Merit in Recreation award was given to Pamela Driver, Covington Recreation Center supervisor. This award is given each year to a recreation professional who has shown outstanding leadership in recreation, leisure or special event programming. Driver has been working for Opelika Parks and Recreation for 10 years, and during that time she has raised the bar of excellence while exuding love and enthusiasm for her job and the people she serves.
The Alabama Recreation and Parks Association awarded Champions Academy with the Innovative Program of the Year award. This award honors programs that demonstrate exceptional innovation in design, presentation and implementation in the Parks and Recreation field. Covington Area Manager Bobby Nix created Champions Academy to help equip seventh, eighth and nine grade young men with the character and skills necessary to thrive and contribute to the community.
Opelika Parks and Recreation Public Relations Coordinator Laura Leigh Chesser was named president of ARPA. Chesser will lead the 520-member organization during her one-year term. Chesser has been working for the city of Opelika for 10 years and has served on the ARPA Board of Directors in several capacities including secretary, District V chairperson and the Marketing Committee chairperson.
The Alabama Recreation and Parks Association recognized Opelika Parks and Recreation as the Agency of the Year for 2022. This award recognizes exemplary agencies in the state that have made contributions to parks and recreation programs on the local, state, regional or national level. Although Opelika is highly regarded by parks and recreation departments across the state, this is the first time Opelika Parks and Recreation has won this award since the department's conception in 1946. Opelika Parks and Recreation offers more than 100 programs, special events, leagues and classes annually. Its motto is "Something for Everybody" and it strives try to provide recreation opportunities for every citizen of Opelika.