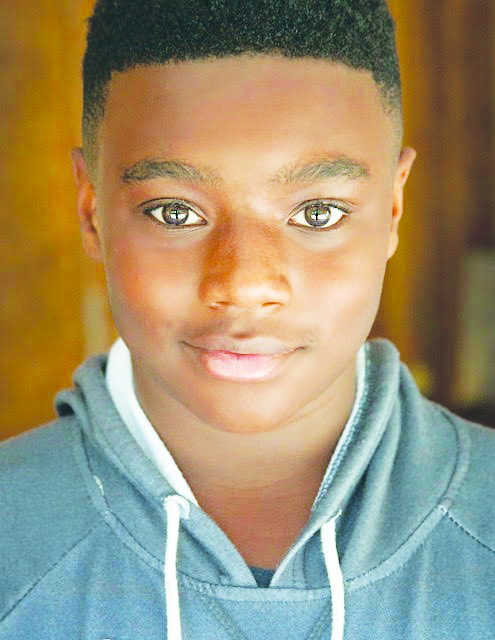 By Morgan Bryce
Associate Editor
Reflecting on his role in Marvel's "Black Panther", which has netted more than $800 million worldwide, Opelika Middle School's Ashton Tyler said he knew from the beginning that the film had the potential to be a blockbuster.
"I knew it was going to be huge … it's just an amazing film," Tyler said.
Starring as young T'Challa, Tyler appears in a flashback scene for the film's protagonist, who is portrayed by Chadwick Boseman.
After months of auditions, Tyler was selected for the role and spent three weeks last summer in Atlanta for production, an experience he said he will never forget.
"The sets that they made for the film were amazing … they were all actual sets. It was amazing to watch, just seeing and getting to meet all the people like (writer/director) Ryan Coogler and Michael B. Jordan and Lupita Nyong'o," Tyler said. "It's a very hopeful film, and I think its message is for both adults and kids. We have a lot of problems in our government and we have a lot of problems in ourselves that we need to fix, and this movie shows people that there is a way and that it is possible to do that."
Black Panther, however, is just a follow-up for Tyler's stellar start in acting.
In 2016, Tyler appeared as the son of Octavia Spencer in the Oscar-nominated film "Hidden Figures", which focuses on a team of female African-American mathematicians who made major contributions to NASA's development of the U.S. space program.
"I get a call from my agent (Susan Tolar-Walters) and she was like, 'hey, you got the part in Hidden Figures.' (After I hung up the phone) it was just an amazing moment that me and my mom got to share together," Tyler said.
Being an actor is the lifelong realization of a dream come true for Tyler, who announced to his parents at 6 years old that he wanted to act.
Two years later, Tyler and his mother Adrienne traveled to an acting showcase in Atlanta, where he would later meet his future agent, Tolar-Walters.
Prior to "Hidden Figures", Tyler had appeared only in commercials, going more than 130 auditions without a part.
"Some people have a natural-born talent, and some learn to be amazing. For me it was a little bit of both," Tyler said. "I knew I had a natural talent, because of the 180 people at that showcase, I was one of those three that got picked. That helped me know that I had something to work with."
Tyler recently finished filming for his third movie, "Uncle Drew", a sports comedy set to air this summer that will feature the likes of former and current NBA stars Shaquille O'Neal and Kyrie Irving of the Boston Celtics, as well as acclaimed actor and comedian Lil Rel Howery.
With appearances in films spanning the dramatic, science fiction and comedy genres, Tyler said he enjoys using his platform to spread his joy and passion for storytelling with movie audiences.
"The reason why I started acting was to make people feel emotions the same way I do. Acting for me is just a way to express emotions that I probably didn't even know that I had," Tyler said. "It's something I love doing and something I can keep doing in the future."
Tyler's mother, Adrienne Pruitt, said she believes the sky is the limit for her 11-year-old son.
"I'm really proud of who he is. He's a really, really good kid, which I hear everywhere I go," Pruitt said. "I'm proud that he has impacted the world so much at such a young age and I see him continuing to do that because I've been told since he was a baby that he was going to do something special," Pruitt said.
Outside of acting, Tyler said he enjoys spending time with his friends, playing basketball and working through his nonprofit "Ashton's Closet", which encourages children to be involved and give back to their communities.
For more information about Tyler or to keep up with his acting career, like or follow him on Facebook and Instagram.