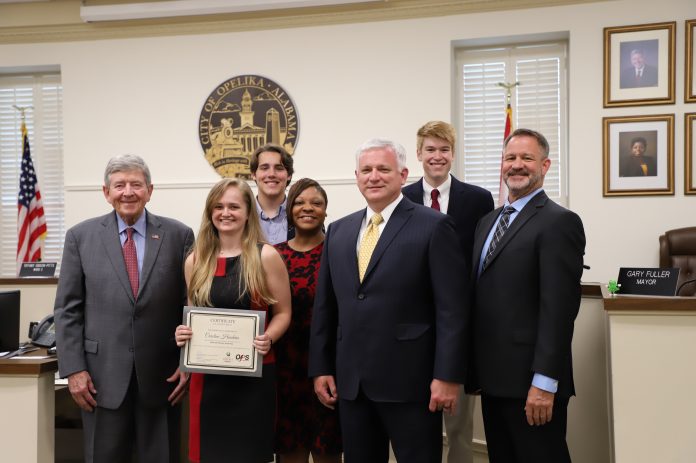 By Michelle Key
Publisher
Mayor Gary Fuller and the Opelika City Council honored several scholarship recipients during last week's city council meeting.
The OPS/AMEA scholarship winners were: Katherine Ann Dudley (Lee-Scott Academy), Caroline Hawkins, Whitt Krehling and Jacob Walker.
The Killgore scholarship winners were: Adam Cason, Caroline Hawkins and Jacob Walker.
The council also recognized students from Opelika Middle School for their recognition as Duke TIP students: Vanessa Bell, Anita Duncan (state and grand recognition), Patrick Seymore and Nolen Wilson.
The council also approved an architectural agreement for renovations to the Covington Recreation Center. Lathan Associates Architects, P.C. will provide architectural, consulting and related services in connection with the project.
In other business, the council:
• issued a proclammation for Family Fun Day on June 1 to be held by the Lion Tamers Social and Civic Club
• approved a request for a temporary street closure for Memorial Day City event which was held Monday
• approved a request 2019 Collinwood Christmas Luminaries on Dec. 13
• held public hearings and then approved resolutions to assess cost of demolition at 9 Ave. B, 206 Byrd Ave. and 1003 Alton Court
• approved a resolution for emergency repairs for truck #764 for Opelika Power Services
• approved a resolution to purchase exercise equipment for the Opelika Police Department's new facility
• approved a resolution for new playground equipment for Ray Ward Park
• approved a resolution to purchase one 2019 Altec Articulating Telescopic Aerial Device for public works
• approved a resolution for a request from Verizon for a SUP for their cell tower located at 20 Veterans Parkway
• approved a resolution for subdivision and roadway acceptance for several new roadways
• approved a resolution for a service agreement with Motorola Solutions for the police department
• approved a special appropriation to Boy Scouts of America for their upcoming Distinguished Citizen of the Year banquet
• approved a resolution to implement a summer youth employment program which will provide young people with the opportunity to earn money and gain meaningful work experience. The program will allow 20 high school students between the ages of 16 to 19 the opportunity to work with various City of Opelika departments. The program will run for eight weeks beginning June 3 and ending Aug. 2.
The Opelika City Council meets the 1st and 3rd Tuesday nights of every month at 7 p.m. in the council chambers at City Hall.