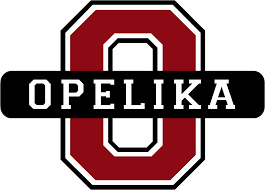 By D. Mark Mitchell
The Opelika Lady Bulldogs (26-7) earned a spot in the AHSAA State Finals after beating Dothan 67-51 in the regional finals last Wednesday at Montgomery's Garrett Coliseum.
This is Opelika's third straight trip to the state finals under Coach Devin Booth. The Lady Bulldogs tip-off at 9 a.m. on Feb. 26 against defending 6A Champion Hazel Green (31-2) in the BJCC Legacy Arena.
Opelika played Hazel Green twice in 2019, a 51-31 loss in the state finals in March and a 45-26 road loss in November.
You can listen to Opelika v. Hazel Green on FOX Sports The Game 910 and 1310 AM and online at foxsportsthegame.com.
The winner advances to the 6A Championship game on Feb. 29 at 12:30 p.m.
REGIONAL CHAMPS
Opelika won the regional championship last Wednesday in Montgomery with a 67-51 victory over Dothan. Despite being tied after three quarters, Opelika outscored the Wolves by 16 points in the fourth quarter. Haley Sanders led the team with 30 points and 17 rebounds while Kaitlyn Bryant and Ananda Hughley scored 12 and 10 points, respectively.
Sanders was voted the tournament's MVP, while Bryant and Hughley were named to the All-Tournament team.
Congratulations! Best wishes, ladies!
RAIN CAUSING HAVOC FOR SPRING SPORTS
The rainy weather forced many spring sport teams to postpone or cancel games during the last two weeks. Depending on the sport and day, some were able to play while others could not.
The softball team was scheduled to play in a 48-team tournament in Phenix City during the weekend. Unfortunately, Central reduced the tournament to 12 teams last weekend because of wet fields. Opelika was not one of the 12, based on the system implemented by Central to pick the teams.
The boys and girls soccer teams have not played since the opening match. The teams play home matches at the W. James Stamford Soccer Complex at the Opelika Sportsplex. Parents of soccer players and supporters have asked to play matches at Bulldog Stadium if rain continues to cause postpone games.
Bulldog Stadium, once the home of OHS Soccer, has synthetic turf with a top notch drainage system. The field could easily be transformed to play soccer games. Soccer lines would need to be painted with turf paint and bring in two soccer soccer goals.
OHS BASEBALL SITTING AT .500
Opelika baseball team (3-3) played three games last week, losing 5-4 to Charles Henderson while beating Beauregard 4-1 and Handley 10-0.
Charles Henderson 5 – OHS 4
The Bulldogs fell to Charles Henderson 5-4 after a walk-off single in the seventh inning.
Opelika outhit Charles Henderson 7-6. Offensively for the Bulldogs, Jace Rhodes and Andrew Parr collected two hits apiece while Brayden Thomas, Julian Duke and Kory McCoy added singles.
Brantley Davis, relieved starter Rhodes after 2 and 2/3 innings and threw three scoreless innings.
Opelika 4 –
Beauregard 1
Opelika broke up a scoreless game with three runs in the bottom of the fifth inning. Rhodes led with two hits while teammates Latrell Gullate and Jackson Harris added singles.
JT McArdle started on the mound for the Bulldogs, pitching four innings allowing a hit and a single run.
Opelika 10 –
Handley 0
The Bulldogs mercy ruled Handley 10-0 after five innings. Harris led offensively with three hits, while Brooks Bryan, Duke and Parr added two hits apiece. Gullatte Xander Grilliot added singles. Parr earned the win, pitching four innings, allowed three hits while striking out five batters.
Dozier Smith T pitched one scoreless inning in relief.
OHS TENNIS
The OHS boys and girls teams managed to play two matches during the last two weeks. 
The Bulldog Netters lost matches to Auburn and Columbus. Winning matches against Auburn and Columbus were: Grey Walker won a single match whiel Walker teamed with Parker McKay to win a doubles match. The girls' doubles team with Hope Bearden  and Laura Tyson Daffin beat Auburn's number two team. Both teams have matches his week; weather permitting. 
CONGRATS RAEDEN
GAGLIANO
OHS senior Readen Gagliano signed a volleyball scholarship with a Southern Union State Community College during a ceremony held at the high school last week.
D. Mark Mitchell is sports director for iHeart Media, Alabama Dixie Boys State Director and vice president of the A-O Sports Council.