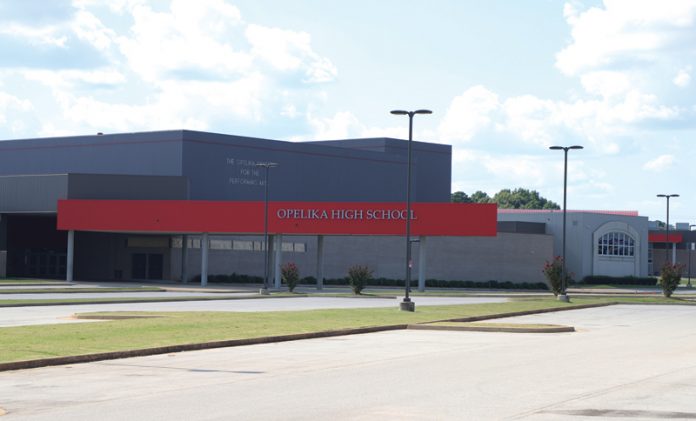 By Lofton Wheeles
For the Opelika Observer
Looking to have a lovely night? Have a ball with Opelika High Theatre Society (OHTS) as they perform Rodgers & Hammerstein's "Cinderella" this weekend.
The musical revolves around the classic tale of 'Cinderella'; however, it's a bit different from the Disney adaptation, or as Opelika High Theatre Society Director Revel Gholston puts it, "not your mom's 'Cinderella.'" The version that OHTS is performing is the 2013 adaptation of the Rodgers & Hammerstein musical from the late 1950s.
"This is actually an even more modern version of Rodgers and Hammerstein's 'Cinderella' than the original so there's quite a few different things," Gholston said. "There's even a few little tricks in the show that I'm not going to reveal because it kind of makes the audience scratch their heads some, but that makes it a fun experience.
"There's some characters that you may not know from original stories. Then, there's the way that the fairy godmother is brought into the story – that's a little different. Then, there's a lot of different discussions about how countries are run and I guess a little politics are thrown in. So, it's got a lot of different things. So, if you haven't seen the Rodgers and Hammerstein version from 2013, you're in for a surprise and a treat I believe."
While the spring musical is happening this time around, last year, OHTS was not able to perform its spring musical 'Little Shop of Horrors' due to the shutdown that happened across the country as the pandemic was taking reign. Anna Seymore, who portrays Madame in the musical, is excited to be able to do 'Cinderella' this year for an audience that is ready to see the magic that OHTS is ready to provide.
"It's a great feeling to get to actually follow through with it," she said. "I feel very blessed that we've actually gotten to have a theatre season this year. We've done all of the shows that we were supposed to do and they've all been wonderful so far and I expect the same out of 'Cinderella' … It is really great to follow through with it and end the season this year and even though it's been a hard year, we're ending it on such a great note."
The musical contains several numbers that are loved by casual and die-hard Broadway fans alike. Charles Gagliano, who portrays Prince Topher in the musical, shared with the Observer his favorite number from the show.
"My favorite number I'd say would be one that's not really as known," Gagliano said. "It's called 'Loneliness of Evening' and it's just [my character] singing about Cinderella and how I can't find her – I really want her, you know. It's just really beautiful like some of the notes I sing and some of the notes [Cinderella] sings in the song. It's all just wonderful, my favorite for sure."
Those who have participated in a theatre production before always have a favorite moment about working on the specific show. For Seymore, her favorite part was developing her character for the show.
"Madame is a very eccentric, very loud, very sassy character and she's evil as well," she said. "So that took a little bit of work to, I guess, work on my mean side and to yell at the other actors who I actually really like and really don't feel like yelling at all the time. It's just so fun to play such an over-the-top fairytale villain because there's a lot of expectations about what that's supposed to look like and so I think it was a little bit of a challenge, but it was also fun to build her up and create her whole personality."
The production is different from shows that OHTS has done in the past. For the first time, OHTS is doing a double cast for this show due to the pandemic. Gholston called this concept interesting, but he has expectations that this show will be excellent.
"I obviously expect greatness and I expect it to be as good as anything that we've ever done and to carry the Opelika High Theatre Society moniker that 'we never disappoint'," Gholston said. "[The double cast] leaves me with a lot of questions about what's going to happen and so I guess it's kind of exciting and also kind of nerve wracking to have to deal with some of that, but it's made it a little different. This past year and a half have been different for everyone so why not have one more different event here before we close this school year down."
Despite a strange year for Opelika High and its student body, OHTS is excited to return to the classics and perform a show that the audience will never forget.
"I think people should come see the show because, one, it's 'Cinderella', obviously," Gagliano said. "I mean, you've got to love 'Cinderella' [because] it's a beautiful story. Two, I think it will be a good show and a fun time. Like [Madame] and my character and some of the others, they say some funny stuff and it's a funny little show. I just think we've all put in so much work and effort and that everyone should see it."
The show opens this Friday at 7:00 p.m. at the Opelika Center for Performing Arts. The show will run on April 17, 23 and 24 at 7:00 p.m. and on April 18 and 25 at 3:00 p.m.
Tickets for 'Cinderella' are available online at GoFan.co www.gofan.co/app/school/AL11750.
For more information, email OHTS@opelikaschools.org.