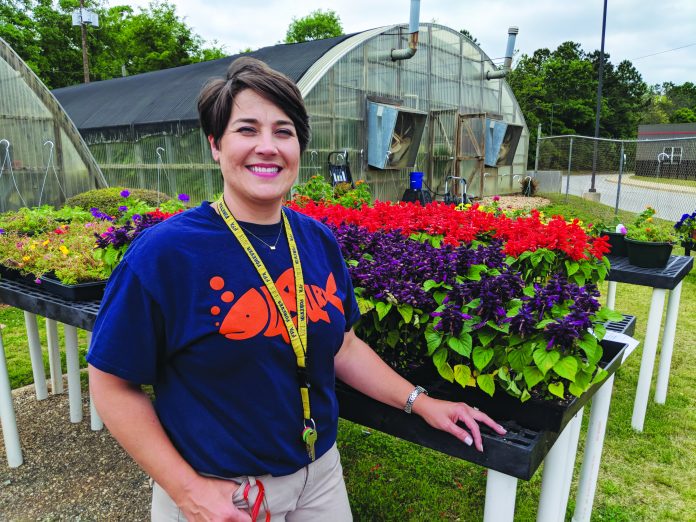 By Shawn
Kirkpatrick
Opelika Observer
Hundreds of ferns, hanging plant baskets, annuals, perennials and trays of herbs are all on display and for sale at Opelika High School's annual "Spring Plant Sale." Every year, more than a 1,000 plants, potted and hanging, are sold by OHS Future Farmers of America (FFA) students.
But it's not just a plant sale, it is an annual event steeped in Opelika's history. "This is a legacy that was started over 30 years ago," said Horticulture Teacher Ginny Gaberlavage.
The plant sale began in the 70s with a small greenhouse on OHS campus. Then, in 1982, retired OHS Horticulture Teacher Jerry Williamson developed a course called Greenhouse Management.
"We produced the plants and followed through to salesmanship. It really started growing in the mid 80s. We had three greenhouses in full production. It really started booming. Our biggest plant sale (back then) was $17,000 in three hours on our opening day," Gaberlavage said.
But it's not just about the plants. Gaberlavage said the experience teaches students how to run a business.
"We want to get kids in a real world situation where they have to sell, and do customer service, and learn how to talk to people."
Senior Cara Couey-Livings has been taking Gaberlavage's classes since 10th grade. She said Miss Ginny is an all-around great person. "Her classes really helped me with my job. I actually work at a flower shop. It's basically what I do here (at OHS). I get customer experience, and I get to work with plants. Miss Ginny bought flowers from Halls Opelika Inc., and I was able to network through her, and they offered me a job."
The FFA students are already getting ready for next year's sale. They have filled hundreds of pots with soil and are waiting for the next phase. "In June we get the fern plugs and plant them," Gaberlavage said. "Then, in August, by the second or third week of school, we will have already put together the baskets and filled them with transplants."
The OHS horticulture staff is also expanding the agriculture program at OHS. They have planted fruit and nut trees, kiwi trestles and grape vineyards on seven acres beyond the baseball field. "We are also starting a huge garden this summer with vegetables like okra, squash, corn, tomatoes, peppers and beans," Gaberlavage said. "We are experimenting with Aquaponics. I have Tilapia in there right now. We hope to put some of those fish in the fisheries pond. That's all in the plan."
In a section of one greenhouse, Gaberlavage stores dozens of what she calls "rental ferns." "I have these put aside for special occasions and graduation. It's $5 a day for one. If someone rents ten ferns for a wedding for the weekend, it's just $50."
Mother's Day is right around the corner, and Gaberlavage said they should still have plenty of plants for sale. She said she is also slashing prices. You can find all the plants at the greenhouse behind OHS. They are on sale from 12:30 p.m. until 3:00 p.m. Monday through Friday, or until all the plants are sold. The bulk of the proceeds from the Spring Plant Sale and the "rental ferns" go to OHS FFA programs and to FFA scholarships.