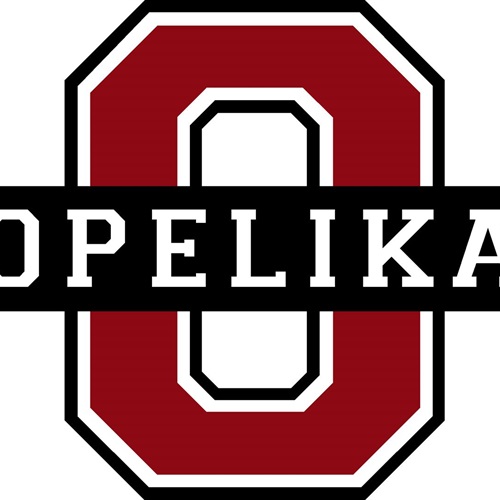 By D. Mark Mitchell
The Opelika High School football team officially started practice for the season. The Alabama High School Athletic Association requires all member schools to follow strict "practice guidelines" from week one through the end of the season. The association bylaws dictate full speed contact and time allowed.
In week one, teams can only dress in shorts and helmets for the first two days of "fall" practice. Shoulder pads and helmets are allowed day three for a period not to exceed 90 minutes of total practice time and not to exceed two hours (120 minutes) on the fourth day. On day five, teams are allowed one full-speed contact practice, in full gear, not to exceed 90 minutes.
In week two, teams must alternate days of full speed contact practice, not to exceed a combined total of 120 minutes of full speed contact is allowed. Intra-squad scrimmages are allowed during week two.
In week three, teams follow week two with the addition of one interscholastic scrimmage or contest being allowed.
In week four through end of season, teams can have a total of 90 minutes of full speed contact practice per week.
Two-a-day practices are not allowed on consecutive days. If two-a-day practices are conducted, a four-hour break is required between the end of the first practice and the beginning of the second practice.
The AHSAA defines a few terms used above:
Live action – Contact at game speed in which players execute full blocking and tackling at a competitive pace, taking players to the ground.
Full-speed contact – Any simulations in which live action occurs.
OHS FOOTBALL/ HOST FIVE GAMES
Opelika will play the same nine teams as they did in 2018, but will host five of those including region rivals Benjamin Russell and Wetumpka.
Seven of the nine teams played in the state playoffs,with three of those being region teams. Selma and Calera are the only two teams that did not make the playoffs in 2018.
The Bulldogs open the season on Aug. 23 in the friendly confines of Bulldog Stadium against Callaway High School of LaGrange. The Cavaliers beat Opelika 35-21 in last year's season opening game at Callaway Stadium.
Arch-rival Auburn travels to Opelika on Aug. 30. Coach Adam Winegarden enters his fifth season as the Tigers head football coach, riding a two-game win streak over Opelika. Auburn is coming off consecutive 10-2 seasons.
Opelika will hit the road Sept. 6, playing at Selma. The Saints took a 66-0 loss at Bulldog Stadium last year. Selma finished 3-7 and did not make the playoffs.
Wetumpka (R) travels to Bulldog Stadium on Sept. 13. Although the last three games have been decided by two points or less, Opelika holds a 1-4 record against the Indians, losing 30-28 last year. Coach Tim Perry has guided Wetumpka to a 24-5 record the last two seasons, including finishing state runner-up in the 2018 Super 7.
Opelika travels to Phenix City on Sept. 20 to play Central, the defending 7A champion. Coach Jamey Dubose has guided the Red Devils to 59 wins and nine losses in five seasons, including a 4-1 mark against the Bulldogs.
Opelika hosts Benjamin Russell (R) Oct. 7 after taking Sept. 27 off. The Bulldogs have dominated the series during the last 20 seasons, winning 16 of those games. Opelika beat Benjamin Russell 29-3 in 2018.
Calera (R) will play Opelika in Bulldog Stadium for the first time in history on Oct. 11. The Bulldogs won 30-10 last season.
Opelika travel to Millbrook Oct. 18 for a battle with Stanhope Elmore (R). The Mustangs are 1-2 against the Bulldogs all time, including a 59-21 loss last year.
Opelika ends the regular season Oct. 25 against Vigor. Opelika leads the series 4-1, including a thrilling 23-22 overtime win in 2018.
The Bulldogs left Nov. 1 open. The team will need the open week prior to the playoffs. The players can recover from nine games and get ready for a playoff run.
D. Mark Mitchell is sports director for iHeart Media, Alabama Dixie Boys State Director and vice president of the A-O Sports Council.