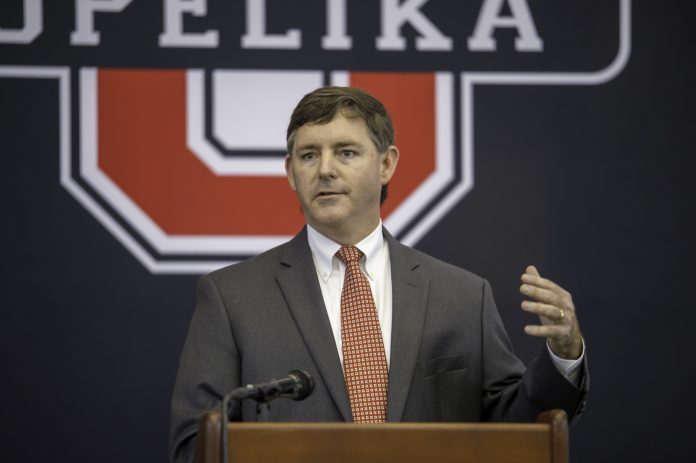 By Morgan Bryce
Associate Editor
Longtime Opelika High School assistant coach and defensive coordinator Erik Speakman has been selected as the new leader of the Bulldog football program.
Speakman replaces Caleb Ross, who was approved last night by the Autauga County Board of Education to be the next head coach at Prattville, his alma mater.
In a press conference held at Opelika's indoor practice facility this afternoon, Speakman, accompanied by his family, spoke about his hiring and his goals for the program.
"It's an exciting day for me and my family, something I've looked forward to for a long time. We feel like this is a great place, (it) always has been, and that's one reason why we have never left," Speakman said. "What I want to see (on opening night) is the kids that we have always prided ourselves with at Opelika … kids that play hard, play with great passion, talk about controlling our effort and attitude. And if we walk off the field victorious, then that's one wonderful, but if we don't, as long as those things are there, then that's okay."
OHS Principal Dr. Farrell Seymore stated in a press release that he is excited about Speakman's hiring, citing his experience and leadership as key factors for what he believes will ensure the program's continued success.
"Opelika High School is honored to have Erik Speakman as its new head football coach. I have worked with Coach Speakman the past seven years and know that Opelika is blessed to have him to lead our young people," Seymore said. "Erik is a student-centered, family man who will lead with purpose and integrity."
A graduate of Athens High School and Auburn University, Speakman worked as a graduate assistant under former Auburn head coaches Terry Bowden and Tommy Tubberville to start his coaching career.
After spending one season at Mobile's UMS-Wright as a wide receiver's coach, Speakman came to Opelika in 2000 as a quarterbacks coach before switching to safeties in 2004. He was also promoted to defensive coordinator during the 2012-13 football season, where he has remained since.
Speakman also served as the school's assistant athletic director six years before fully taking over the position last year following Brian Blackmon's departure.
With fewer than 192 days until the season begins, Speakman said he and his staff will begin working right away on coaching up a solid team that he expects will dominate in all three phases of the game.
"I'm a defensive guy, so we're going to play great defense and then offensively, we're going to run the football and throw it down the field. I feel like we're going to have a great running game, and with Cade Blackmon coming back, I feel like we're going to have a strong passing game," Speakman said.
Since 2010, Opelika has won 73 percent of its games, made the playoffs each year and appeared in two state championship games, falling 31-0 to Hoover in 2012 and 21-16 to Ramsay in 2016.
Speakman added that he will serve as the school's athletic director until a replacement has been found. No timetable for finding his replacement has been set.