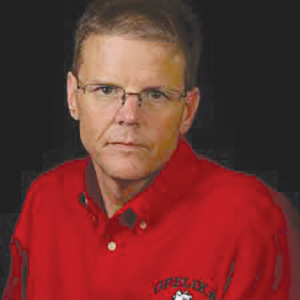 On the Mark
By D. Mark Mitchell
The OHS football team travels to Millbrook Friday to play Stanhope Elmore in the season opener at 7 p.m. The game against Stanhope was scheduled after Opelika lost Calloway as their opener when Georgia opted to delay the start of fall sports by two weeks.
Opelika and Stanhope Elmore have played four times, in 2008, 2010, 2018 and 2019. The Mustangs' only win over the Bulldogs, 24-10, occurred in Millbrook in the first round of the AHSAA playoffs in 2010. OHS beat SHHS in the first round of the playoffs in 2008, 45-20. The two teams were region opponents the past two seasons with Opelika winning both games: 59-21 in 2018 and 38-14 last season.
This will be the first time either school has played or scrimmaged against an opponent since the end of the 2019 season. The two head coaches wanted to play a game the first week allowed by the AHSAA. Coaches, like fans, are ready for football despite the changes due to COVID 19.
OHS head coach Erik Speakman, appearing on the "On the Mark" radio show, which airs 6 to 9 a.m. on FOX Sports the Game 910-1310, said that he was not ready to name a starting quarterback. "All four will play [in the opener]. None of them have separated from the others. It will be good to see the kids in a live football game. That includes every player . . . nothing like playing in a real game," Speakman said.
The Bulldogs have not been forced to stop practicing this fall, despite having a few players test positive for the coronavirus. Speakman believes his coaching staff and players have adapted to COVID-19. "We check our players' temp every day. If a player has a fever they are not allowed in the indoor facility and must return home . . . I have sent a few home, but they did not have COVID-19."
Kickoff is set for 7 p.m. Friday night in Millbrook. Tickets are limited and can be purchased online at www.gofan.co, NOT  www.gofan.COM. GOFAN.COM is not a website. Fans should check the site for all high school football games, including Opelika High School's.
Opelika football games will air on WKKR 97.7 KICKER FM, online at kickerfm.com and I believe it will be live-streamed, sponsored by The Orthopaedic Clinic, on the NFHS network. Opelika School Superintendent Mark Neighbors originally decided to live stream games on YouTubelive.com at no charge to fans, but playoff games cannot be aired live and the school would be charged $500 per playoff game for playback 24 hours after the completion of the game.
The NFHS Network is a partner of the Alabama High School Athletic Association and all games can be aired live if using the NFHS Network. Fans can go online to nfhsnetwork.com, open an account and pay a subscription to watch Opelika football games live with the radio broadcast piped in. OHS will receive 50% of all subscriptions and can air every sport live, including volleyball, cross country, basketball, soccer, baseball, softball, tennis and other sporting events.
In a statement released by Opelika City Schools, OCS Superintendent Mark Neighbors said, ""Since we will be limiting attendance in Bulldog Stadium, we feel like it is important to provide the opportunity for all of our fans to be able to watch the football games on Friday night. We appreciate The Orthopaedic Clinic being the title sponsor of the broadcast."
Hopefully Opelika will air as many live sporting events as possible. The school can sell a year-long pass, half of the cost of which will go to Opelika High School. We will know more this week. The Opelika radio broadcast begins at 6:30 on 97.7 Kicker fm.
ATTENDANCE AT BULLDOG STADIUM
I reached out to OCS for information on fans inside Bulldog Stadium for home football games. The system has yet to release the information to all media outlets. Bulldog Stadium capacity will be set at 30% of the roughly 7,000 seats. Tickets will be sold in advance online to families of competition participants of football, cheerleaders and band. Each family can purchase three tickets per participant family. ALL tickets will be sold on the internet at www.gofan.co
OHS Athletic Director Mike Pugh, now over the All-Sports Booster Club, sent letters to corporate sponsors asking for renewals. The plans are the same price despite cutting benefits. Each plan has two fewer football tickets to each home game, and there will be no corporate passes for other sporting events. Pugh stated the booster passes were taken away due to sports playing inside. Nothing was mentioned about sports that play outside, such as softball, baseball, cross country and track and field. No season tickets were sold and all seats are general admission.
VOLLEYBALL
OCS limited the capacity at Bulldog Gym as well. Family members can purchase up to four tickets per player. Fans will be able to purchase remaining tickets available.
If you have questions about tickets call OHS at 334-745-9715.
HIGH SCHOOL FOOTBALL COVERAGE
Keep up with high school football locally by listening to the "High School Coaches Show" each Wednesday 6-8 p.m. on 97.7 Kicker FM and FOX Sports the Game 910-1310. Every football coach in the area will be on the air during the two hour show. iHeartRadio continues to air Opelika football, Valley football on 100.9 FM and Smiths Station football on MIX 96.7. Every Saturday morning catch the "Orthopaedic Clinic High School Recap Show" on www.foxsportsthegame.com
Weekday mornings, listen to "On the Mark" (6 to 9 a.m.) on FOX Sports the Game 910-1310 AM for local high school sports coverage. The "On the Mark" guest lineup includes former AHSAA Executive Director Dan Washburn on Mondays, former Alabama football coach Gene Stallings is on Thursday at 7:05, Orthopaedic Clinic CEO Terry Rosenthal Friday at 8:30 and guest appearances by James Cooper (Western Sizzlen), Derek Lee, Kenny Knox of Kenny Knox Tires, former Opelika head coaches Larry Gore, Joe Wilson and former AU coach Doug Barfield. Twice a month we bring you the "Mayors report" as Lanett Mayor Kyle McCoy, Valley Mayor Leonard Riley, Opelika Mayor Gary Fuller and Auburn Mayor Ron Anders discuss council meetings. Other guests include: AHSAA Executive Director Steve Savarese and Alabama State Superintendent, Dr. Eric Mackey. Local high school coaches call each day updating us on their teams and program. Tune in to "On the Mark" weekdays 6 to 9 a.m. on 910-1310 am and online at www.foxsportsthegame.com/listenlive
D. Mark Mitchell is sports director for iHeart Media, Alabama Dixie Boys State Director and vice president of the A-O Sports Council.