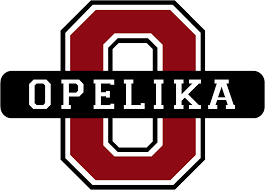 By D. Mark Mitchell
Opelika Dixie Youth selected All-Stars for seven to year years old (AA), nine to 10 years old (AAA) and 11 to 12-year-olds (Ozone). These three teams participated in District tournaments during the last two weeks.
The seven and eight-year-old All-Stars finished second in the district tourney at Smiths Station, earning a trip to the state tournament in Troy July 12.
The nine to 10-year-old team won the district tournament with a 4-1 record. The Minor League All-Stars won two straight, against Smiths Station 10-3 and the Auburn Orange 11-3. The Auburn Blue earned a hard-fought game over Opelika 1-0 in 10 innings.
Opelika reeled off two straight wins, beating the Blue 15-6 and Orange 11-6.
Opelika will play in the state tournament July 12 through 17 in Priceville.
The Opelika Ozone All-Stars were eliminated from the district tournament after one win and two loses. The 11 to 12-year-old players gave it their all but could not advance.
OPELIKA Junior Dixie Boys 13U
The Opelika Dixie Boys league has a 13U All-Star team. The Junior Dixie Boys team received a bye to the state tournament. The district has had tremendous success during the last few years, earning a team to play in the state tournament. The Junior DB State Tournament begins July 12 in Dothan. Opelika will play for a birth in the World Series.
AHSAA ELITE 100
The Alabama High School Athletics Association held its first Elite 100 basketball showcase last weekend. The AHSAA invited 100 girls and 100 boys basketball players to show their skills in front of hundreds of college coaches across the US. Rising senior Claire Worth participated in the event in Hoover.
This is an opportunity for high school athletes to show case their skills and perhaps earn a scholarship.
ON THE MARK
RADIO CHANGE
My morning sports radio show On the Mark will air on 910 and 1310 AM beginning July 1. The new stations will change to FOX Sports 24/7. The On the Mark radio show will air 6 to 9 a.m. on both stations.
D. Mark Mitchell is sports director for iHeart Media, Alabama Dixie Boys State Director and vice president of the A-O Sports Council.