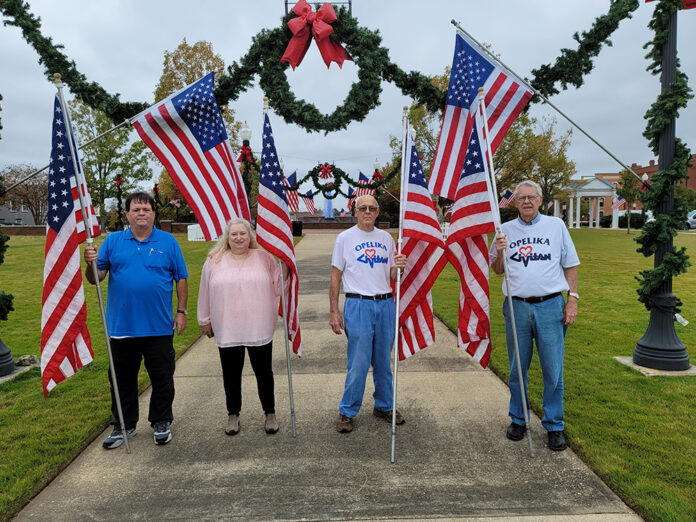 Contributed by Community Foundation of East Alabama
Although 2020 has been a unique year, to say the least, the tradition of honoring veterans for the former Opelika Civitan Club was no different. Four dedicated past members of the Opelika Civitan Club: Tony Ledbetter, NinaFaye Ledbetter, John McCollum and Jim Powell, put up over 90 American flags around downtown Opelika in record time. They are fast and efficient because the Opelika Civitan Club has been honoring veterans on Veterans Day and other patriotic holidays for over 50 years. The Opelika Civitan Club started displaying the flags in downtown Opelika on Nov. 10, 1969, after purchasing several large American flags in honor of Veterans Day. Over the years the Opelika Civitan Club "Flag Project" grew to include all patriotic holidays, and the number of flags also increased with its popularity. Now there are over 90 flags displayed five to eight times a year by Civitan members, families and friends. The flags were originally displayed in the downtown area of Opelika with holders on parking meters. As parking meters disappeared, the holders were placed on canopy posts around town and on rails along Railroad Avenue. Several years ago, the city of Opelika installed holders on all the new posts on 6th St., 2nd Ave. Bridge and around the Courthouse Square to allow for easier set-up and take-down of the time-honored tradition.
"As a veteran, I can't help but to have a sense of pride when I see the display of flags around downtown Opelika," said Todd Rauch, a U.S. Army veteran and Purple Heart recipient. "Pride in our Country and community is what makes Opelika so special and a great place to live."
The Opelika Civitan Club ended its charter with Civitan International Organization on July 1, 2020, due to a decline in membership. However, the Opelika Civitan Club has created a non-endowed "Flag Project Fund" with the Community Foundation of East Alabama to continue the tradition of displaying flags in downtown Opelika for years to come. The fund will allow for the purchasing of new flags, as needed, and the replacing of worn and tattered flags after they are retired.