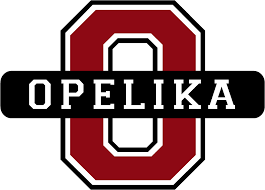 By Beth Pinyerd
Opelika Observer
On May 21, a wonderful reception and recognition was held at Jeter Primary School to honor the teachers and personnel who have given their lives to the students and families of the Opelika community.
Each Opelika staff person who retired was honored by the Opelika School Board with recognition of the many years served by the presentation of a beautiful silver plate and each was honored by the many years served.
After the reception, the school board held their regular meeting. During the meeting the following awards and recognition were presented.
The Opelika High School "Perspectives" magazine was presented at the beginning of the school board meeting. "Perspectives" is an annual publication of Opelika High School dedicated to providing high school writers and artists the thrill of submitting their work for publication. Pieces included in "Perspectives" are chosen by the magazine staff and are based on merit, rather than theme.
The following student awards were presented at the school board meeting:
2019 Superintendent Art Show First Place Winners
Addison Young, grades K-2
Gianna Jimmerson, grades 3-5
Kiley Brooks, 6th grade
Jane Stephens, grades 7-8
Xaria Madden, grades 9-10
Angel Geyrozaga, grades 11-12
Second Place
Axel Ortiz Montealvo, grades K-2
Lily Williams, grades 3-5
Yan Si Gabriel Perez, 6th grade
Violet Alcorn, grades 7-8
Romina Arevalo, grades 9-10
Angel Geyrozaga, grades 11-12
Third place
Joshua Hernandez Felix, grades K-2
Mirella Lopez, grades 3-5
Alondro Alfaro, grades 7-8
Aiden Neman, grades 11-12
Honorable Mention
Alexa Kadletz, grades 7-8
Dawson Rush, grades 11-12
Bicentennial Winner
Tyjah Porter, West Forest, grades 3-5
Claire Richmond, Morris Avenues, grades 3-5
2019 Congressional District Art Competition
Angel Geyrozaga, 2nd place
All State Band 2019
Caroline Hawkins – Alabama Bandmasters Association All-State Band Festival Blue Band
Nathan Hunter – Alabama Bandmasters Association All-State Band Festival White Band
All State Honor Choir 2019
Xaria Madden
Rashaad Chislom
Ryan Johnston
Destiny Wilson
Hope Bearden
Rebecca Wilson
2018 State Trumbauer Theatre Competition Awards
Davis Samuels – All Star Cast Member 2018 State Trumbauer Competition
Daniel Gay – 1st Place Male Contemporary Dramatic Monologue-Varsity 2018 State Trumbauer competition
Caleb Eason and Matthew Johnson- 1st Place Duet Readers Theater Comedic-Varsity 2018 State Trumbauer Competition
Caleb Eason – 2nd Place Playwriting Novice 2018 State Trumbauer Competition
Breckin Gould and Brylee Gregory – 3rd Place Female Duet Pantomime- Novice 2018 State Trumbauer Competition
Beaux Williams – 3rd Place Male Pantomime-Varsity 2018 State Trumbauer Competition
2019 Quiz Bowl State champions
Opelika Middle School – 6th Grade Quiz Bowl Team:
Zavier Dowdell
Tyler Ellis
Henry Evans
Marley Golden
Taylor Morgan
Zane Sexton
2019 Quiz Bowl MVP presented to Henry Evans-Opelika Middle School
State Swimming
2018 AHSAA Class 6A-7A Swimming – Bradi Jones, 100-meter breaststroke, Bronze Medal
OHS boys Track team-2019 AHSAA 6A Track and Field
Jayen Stinson, Javelin, State Champion
Jaylen Stinson, 400-meter dash, Bronze Medal
Jarell Stinson, 400-meter dash, Silver Medal
Eric Watts, Long Jump, Silver Medal
4×100 Meter Relay
Omar Holloway
Eric Watts
Dalen Torbert
Brantan Barnett
Silver Medal
2019 AHSAA6A Track and Field
OHS Boys Track Team, Bronze Medal
After the award ceremony the school board met on new business, which included:
• approvals of the Revised Dual Enrollment Policy
• Digital Literacy/Computer Science Textbook Adoption List and the Digital Literacy/Computer Science Comprehensive State Approved Textbook Adoption List
• Opelika High School Bus Loop Improvements
• Patsy Parker and Kevin Royal were reelected by the school board to serve as Chairman and Vice Chair. The next school board meeting will be June 25 at the school board office which is located at 300 Simmons St. in Opelika.