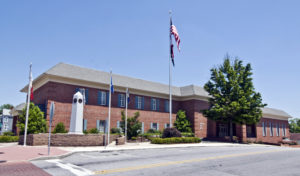 By Michelle Key
Publisher
With a unanimous vote, the Opelika City Council voted to suspend the 2-reading rule and voted to approve ordinances to amend Section 5 of the city's three historical preservation ordinances.
After weeks of input from city residents, the ordinances were presented to the council for their consideration. The ordinances as approved will amend Section 5 to provide that properties currently owned by religious organizations will remain exempt. However, properties acquired by religious organizations after the effective date of these ordinances will not be exempt from Historic Preservation Commission regulation and will be subject to all regulations of the HPC.
Three of the five council members offered personal statements regarding their decision to vote to approve the amending of these ordinances. Councilman Dozier Smith T spoke from the heart as he read his prepared statement.
"This has been a complicated issue. I see the need to protect our history I see the need to protect our beautiful homes and neighborhoods. I see the need to protect those people that have invested so much of their time and money to restoring these beautiful homes. I see and appreciate the good the Historical Preservation Society has done for our city. I see and appreciate the good the Historic Preservation Commission has done and can do to assist in the preservation of our history," Smith T said. "Our history is so important."
"I also see the important and interval role our churches play in the very fabric of our city. I see the beauty of the buildings but more importantly, the beauty of the people that make up their memberships. I see the good they do for the very least of these in our midst. But I also see written in the laws of the State of Alabama and federal government that pertain to land use regulations. They have protections that we as individuals do not have. But I also see good people, I see good friends on both sides of this issue and that's made it difficult. It hasn't been an easy decision. But after much prayer and thought I decided to vote for these ordinance amendments," Smith T added. "I believe this is the right decision. This will help preserve our history which is vital to our community and while also allowing churches maintain their footprint they now hold."
Councilwoman President Pro-Tem Patsy Jones also spoke to those present.
"This has been a difficult decision for all of us but at the same time we are charged as [elected] officials to make decisions that would impact all people. In doing that, my vote has been because there were existing property owners that have come to the table thinking and knowing that there was an exemption. We are trying to make sure that all of those people stay in that same category and those thereafter will comply because it is important that our history is preserved. We have tried to make sure that the ones before are protected, as well as those coming after and making sure that our community stays with the integrity that we want," Jones said. "I feel that it (approval of ordinance amendment) does help all people that will be impacted."
Councilman David Cannon had the following to say about the difficulty in making this decision.
"This is one of those types of issues that comes up that nobody likes to deal with. We need to make our own decision as to how we're going to vote but at the same time we need to pay attention to what we hear. This is one of those situations where it has been outstandingly supported that we do this by the numbers of people that we have heard from. So we listened," Cannon said.
These newly approved ordinances will take effect and be enforced immediately upon their adoption and publication as required by law.
In other business, Mayor Gary Fuller read a proclammation declaring May to be 'Bike Month' and recognized Patrick Tufts for being the youngest person to complete the 60-mile Bo Bikes Bama Charity Bike Ride and Lisa Pierce, executive director of Alabama Rural Ministry for her work in raising funds for tornado victims during the The 10th Cycle of Service.
Fuller also recongized Cristian Perez from Carver Primary and Katie Richards from West Forest Intermediate as the winners of the Bicentennial T-shirt design winners from their schools.
The council also:
• approved a request from First Baptist Church for a street closure on June 10-13
• approved expense reports and also designated city personal property as surplus and authorized its disposal
• approved the purchase of 624 Toter 96 gallon EVR II Carts in the amount of $32,068.01
• approved the purchase of a FireEye Email Security System for the IT department in the amount of $52,383.89
• approved the purchase of one 2019 sewer vacuum truck for the public works department in the amount of $389,994
• approved two occupational tax refund requests and one business license fee refund request
• approved the vacation of right-of-way for a .18 acres portion of West Point Pkwy & Sportsplex Parkway for Awesome LLC; a .20 acre portion of Sportsplex Parkway & West Point Pkwy for Morgan & Boothe and a .56 acre portion of Anderson Rd & Sportsplex Parkway for Inwoo Paek
• approved the police captain validated selection procedure contract in the amount of $22,000 plus expenses
• approved a resolution for the proposal from Sain Assoc. Engineering Services to provide preliminary engineering services pertaining to intersection improvements
• approved a resolution to amend the annual appropriation to Lee-Russell Council of Government in the additional amount of $18,493 from each member government for the purchase of 4 new buses and installation of a security camera system on all buses for the Lee-Russell Public Transit System
• approved a resolution for the annual authorization to Levy tax on property within Opelika
• approved annual MWPP reports for East and West Sewer Treatment Plants
• approved an employee contract for the asst. director/mgr. distribution services of OPS
• approved an ordinance to amend the zoning Ordinance & Map for 60.74 acres of land located at Pepperell Pkwy & North 30th Street
• voted to suspend the rules requiring two readings and voted to approve an ordinance to amend Chapter 5.5 of the city ordinances to add Article IV pertaining to Small Wireless Facilities in city right-of-ways.
The Opelika City Council meets the first and third Tuesday nights of every month at city hall which is located at 204 7th St. in downtown Opelika. All meetings are open to the public and start at 7 p.m.
Meeting agendas and notes can be found on the city's website /www.opelika-al.gov.