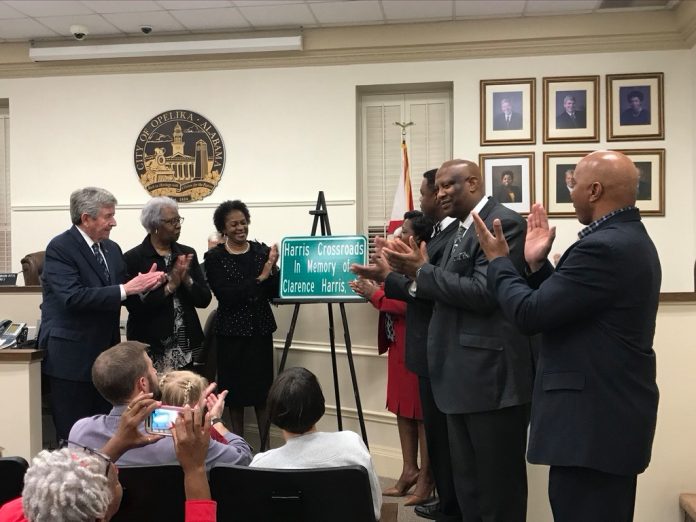 By Natalie Anderson
Staff Reporter
During the Opelika City Council meeting held last Tuesday, Mayor Gary Fuller honored the life of Clarence Harris, Jr., who served four terms as Ward 2's councilman.
Fuller recalled one of their last conversations being held in regard to the safety of drivers on Anderson Road. Per Harris' request, the city added a four-way stop and later included a flashing sign.
The new sign, which will be placed on Anderson Road, reads: "Harris Crossroads: In Memory of Clarence Harris, Jr."
The council also recognized the success of the "Empty Bowls" event held earlier this month with a check representation to the Food Bank of East Alabama for $21,000.
The Opelika School Teachers of the Year were also recognized at Tuesday's meeting by local principals and Opelika City Schools Superintendent Dr. Mark Neighbors.
In other business, the council:
approved a request for the ACS' annual Relay for Life event on April 17
awarded a bid for right-of-way vegetation management
approved emergency repairs and upgrades for a transformer in Substation 6
approved the purchases of two drones for the Opelika Police Department, software and maintenance and one freightliner
granted an application with ADEM for the Recycling Fund Grant Program
approved special appropriation to "Keep Opelika Beautiful"
reappointed David Scott, Steve Bordeaux and Steve Chapman to the Opelika Industrial Development Authority board until March 8, 2024 and
reappointed Brent Poteet to the Property Maintenance Board of Appeals until March 16, 2023.
The Opelika City Council meets on the first and third Tuesday of each month, with work sessions normally starting between 6 to 6:45 p.m. followed by the regular meeting at 7 p.m. Beginning on March 3, city council meetings will be moved to the new Opelika Municipal Court facility at 501 S. 10th St. For more information, visit www.opelika-al.gov.