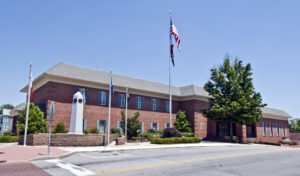 By Morgan Bryce
Associate Editor
Members of the Opelika City Council viewed a 3-D architectural rendering of the city's new police department headquarters during their regular meeting last Tuesday night.
Being constructed by the Birmingham-based construction company Robins and Morton, the nearly 37,000 sq. ft. facility will replace the one currently in use on 10th Street.
"This is something that we've needed for a long time. We have an outstanding police department, and they need an outstanding facility," said Opelika Mayor Gary Fuller. "It's going to be a good thing all the way around."
City Attorney Guy Gunter said that the project's cost will not exceed $18,533,407.
Municipal court operations will be moved off-site once construction begins later this year, a project that is expected to be completed within 12-18 months.
The council also approved the submission of an application for the U.S. Department of Transportation's BUILD Transportation Discretionary Program Grant for the city's planned I-85 connector project.
Project readouts show that the proposed transportation loop would be built to connect Highway 280 north of Opelika to Exit 64 of Interstate 85 in an effort to "improve the flow of traffic through Opelika, support a major industrial expansion and improve access for existing industries located in the Opelika Northwest Industrial Park."
Appraised at a cost of $22.4 million, 80 percent ($17.93 million) of the project would be covered by the grant, with the city pitching in the remaining 20 percent ($4.5 million).
Morris Avenue residents Peter Elliott and Shirley Lazenby spoke during the citizen communication portion of the meeting to share their concerns of increased traffic flow and passage of semi-trucks and tractor trailers through their neighborhood.
Council President Eddie Smith, along with City Engineer Scott Parker, Fuller and the rest of the council members, assured them that the city would do its best to work with citizens through the process, and according to Smith, work with the Opelika Police Department to prevent the flow of larger traffic through the area.
"I talked to (OPD) Chief (John) McEachern this afternoon and he told me that they had issued some citations on the (drivers) of some trucks that had decided to drive down Morris Avenue. He told me that they would be increasing their patrol to try and put a stop to that," Smith said.
In other business, the council:
• Approved expense reports from various departments
• Approved a sewer refund to the land owners of property located at 2709 Rocky Brook Lane
• Approved the purchase of Cisco Equipment for the city's IT department
• Appointed Tom Morris to the Alabama Municipal Electrical Election Committee
• Awarded a bid to East Alabama Paving for the continuation of the City Wide Resurfacing Project.