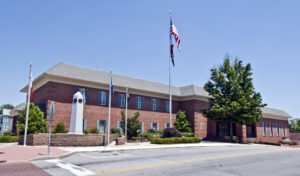 By Savannah Vicker
For the Opelika
Observer
Members of the Opelika City Council approved a feasibility study for power and technology upgrades, as well as an expansion of the city's information and technology department, during its meeting last Tuesday.
The much-needed renovations will include increased power and backup power, streamlined office and data room layout and addressing the building's sewer pipes.
A proposal of services for the study was submitted by Seay, Seay & Litchfield, a Montgomery-based architecture firm.
Although it was not an official agenda item, the council addressed citizen concerns about the proposed transportation loop during the citizen communication portion of the meeting.
At the July 3 meeting, the council approved an application to the U.S. Department of Transportation for its BUILD Transportation Discretionary Program Grant as part of the planned I-85 connector project. City Engineer Scott Parker reminded citizens that the city was only applying for the grant and that there is a possibility of being denied in the process.
Morris Avenue resident Karen Frick expressed concerns over the increased flow of large tractor trailers through her neighborhood.
"Few residents of the surrounding communities would feel comfortable with letting their children bike to school on a bypass truck route if, in fact, trucks were in the future allowed on Morris," Frick said.
Council President Eddie Smith assured the residents that the council has "absolutely zero plans, anywhere in this building, for Morris Avenue."
In other business, the council:
• authorized the vacating of a portion of the right-of-way on Priester Road.
• approved a Professional Service 'Game Day' Contract with the City of Auburn
• approved Gateway Food Mart Request for an Off-Premise Beer and Wine License
• approved weed abatement assessments for properties located at 709 India Road, 901 Lake Condy Road and 1109 Magnolia St.
The Opelika City Council meets the second and fourth Tuesday of each month. Visit www.opelika-al.gov/406/City-Council for more information.