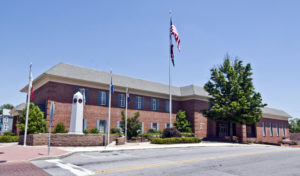 By Michelle Key
Publisher
The Opelika City Council and Mayor Fuller continued to receive public comments from residents of Opelika during last week's city council meeting on changes to the ordinance regarding the status of buildings owned by religious organizations in Opelika's historic district.
Five people spoke in support of removing the exemptions for religious organizations that allow the alteration or demolition of property within the historical districts without approval or oversight from the Historic Preservation Commission.
Shane Dickerson spoke on behalf of the Historic Preservation Society. "We have some of the most beautiful, historic churches in the state of Alabama located within our historic district," Dickerson said. "We are greatly concerned about what could happen to some of these churches. Can you imagine Opelika's historic district without First Methodist? Can you imagine without St. Marys? It is almost unthinkable," Dickerson expressed.
"Forty years ago, the Historic Preservation Society was established, almost 20 years before there was an ordinance was in place. Those people wanted to make sure that this city's historic structures were protected. Our purpose included one particular item – to instigate local and state action to protect the historical character of Opelika. One of the men who wrote that as part of our purpose was Mr. Forney Renfro. Think about that."
During the meeting Fuller issued a Proclamation for the National Day of Prayer and for Relay for Life.
He also recognized the Opelika High School girls basketball team for their successful season.
In other business, the council:
• approved city financial statements for the month of March 2019
• received the March 2019 Building Inspections monthly report from City Administrator Joey Motley
• approved a street closure request from Main Street for two events – Touch-A-Truck and Burger Wars on June 1
• approved a street closure request for Opelika Main Street for a new event called Main Street on Tap slated for July 27
• held public hearings for the project development agreement with BC Stone Contracting and for the amendment of Zoning Ordinance & Map to rezone 60.74 acres located at Pepperell Pkwy & North 30th Street
• approved a bid from Matthews Specialty Vehicles for the retrofitting of the Mobile Health Clinic in the amount of $127,791
• approved expense reports from various departments.
• approved a resolution to purchase – one (1) 2019 Ford F350 Crew Cab and Chassis
• approved Resolution 091-19 to purchase – christmas decorations – This resolution was to correct an error in the previously approved resolution
• approved a resolution to set a date for a public hearing to fix demolition cost for 9 Avenue B, 206 Byrd Avenue and 1003 Alton Court. The public hearing will be held in council chambers on May 21
• approved a request for a Special Use Permit from AT&T for their cell tower located at 3460 US Hwy. 280 East
• approved a resolution appointing Kevin D. Rice as ADA Coordinator & Approving Amended ADA Grievance Procedures
• approved the BC Stone Contracting, LLC project agreement
• approved a resolution approving a right-of-way encroachment license agreement with the Cotton District, LLC for Resting Pulse Brewery
• approved the FY2019 appropriation contract with Chamber of Commerce
• approved an appropriation to Opelika City Schools Track Team for their travel to the state tournament
• approved an appropriation to the Community Foundation of East Alabsma for the upcoming Opelika Giving Day on May 1
• authorized Mayor Fuller to execute the Receipt and Refunding Agreement in order to accept a charitable contribution in the amount of $4,923.69
• approved a resolution to renew the employee contract for the OPS director
• approved Resolution 104-19 opposing Senate Bill 264 regarding small cell wireless regulations
• heard the 1st reading of an ordinance to amend the zoning Ordinance & Map for 60.74 Acres located at Pepperell Pkwy & North 30Th Street
• set aside the 2 reading rull and voted to approve an ordinance authorizing the issuance, sale, delivery, and payment of the city's $16,695,000 principal amount electric system revenue taxable Refunding warrant, series 2019, to be dated April 18, 2019, to Regions Commercial Equipment Finance, LLC.
The next meeting of the city council will be held on May 7 at 7 p.m.
Meetings are held at City Hall located at 204 S. 7th St.
Minutes of the meetings can be found online at the city's website www.opelika-al.gov/406/.City-Council.