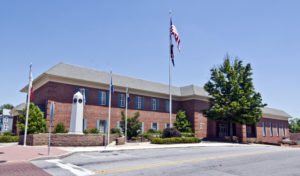 By Shawn Kirkpatrick
Opelika Observer
One city council member voted "no" and voiced concerns after a request for a retail beer and wine license by Dollar General on 23 Samford Ave.
"I can't with a good conscience support it (the request) considering the location of this particular store next to a neighborhood where there is a lot of shooting and killings," said Opelika City Council Member Ward 2 Tiffany Gibson-Pitts.
Gibson-Pitts said the store on Samford backs up to Chester Avenue and Dover Street where there have been several incidences of violence. "Someone was just murdered on Chester Avenue. It's a high crime area in Ward 2. I didn't want to support bringing in beer and wine for that particular area," she said.
The request was approved, despite Gibson-Pitts' protest. The councilwoman held a public meeting to address the gun violence in the area April 9 at the Lewis Cooper Jr. Memorial Library.
She said she wants to try to come up with a solution and a plan to tackle the problem.
In other business, the council:
-approved $5,000 on behalf of the local chapter of the American Cancer Society and its annual Relay for Life, April 27, Courthouse Square, 6 p.m. to midnight.
-approved $2,500 for Keep Opelika Beautiful 2018 Garden in the Park, May 5, at Opelika Municipal Park from 8 a.m. to 3 p.m.
-approved $4,000 for the Dream Day Foundation, a community nonprofit sponsoring the first Black Male Summit at the Opelika Performing Arts Center April 21
-approved the submission of grant application to the Alabama Department of Economic and Community Affairs
-approved website policies for the city's updated website
-approved the amending of a resolution regarding the Opelika Rotary Club's donation of trees, which permitted the purchasing and planting of Saucer Magnolia trees, instead of Cleveland Select Pears.
There were two special offerings of the pledge of allegiance at the meeting. Dallas Henderson and Peter Kambeitz, both seniors at Opelika High School (OHS), were asked to give the pledge of allegiance by Principal Farrell Seymore.
Henderson gave his pledge using a DynaVox Communication Device that helps facilitate sppech. His mother, Sharon Henderson, said Dallas has a good mind and heart and is a typical teenager. "He loves girls, music, his iPhone and people. He also likes sports and plays baseball with the Miracle League. He's an awesome kid who does have a lot of challenges, but he keeps persevering," she said.
Kambeitz holds the title of Mr. OHS. That title is given to someone who represents the values of Opelika and OHS. The winner gets a $500 scholarship. At OHS, Kambeitz is also the vice president of Future Business Leaders of America, in the Philanthropy 101 program, runs cross-country, is the senior class secretary and president of the Spanish club. "I'm also in the marching band, jazz band or any band that is offered. I play the trombone," he added.