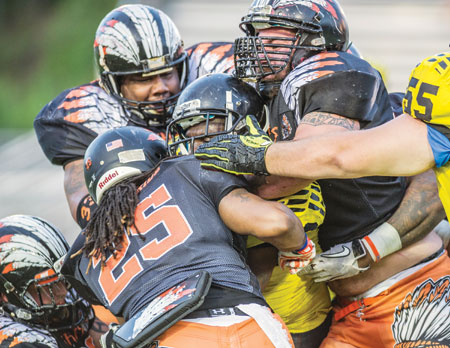 By Fred Woods
Editor
The Opelika Chiefs began their 2017 season on the right note, beginning a new winning streak with a 36-14 victory over the Alabama Blackhawks in Birmingham last Saturday night. The Chiefs led 36-0 going into the fourth quarter but allowed two late Blackhawk scores on defensive backfield breakdowns.
QB Kyle Caldwell led the way for the Chiefs offensively, passing for three touchdowns and running 48 yards for an additional score.
An estimated 200 fans made the trip to Birmingham to root the Chiefs to victory in the season's opener.
This week, Opelika travels to Pensacola to take on the Emerald Coast  Scorpions, who moved up two places to #9 in the APDFL Power Rankings on the strength of their opening win. The Chiefs remain at #2 behind last season champion Oklahoma City Bounty Hunters who also won their opening game.