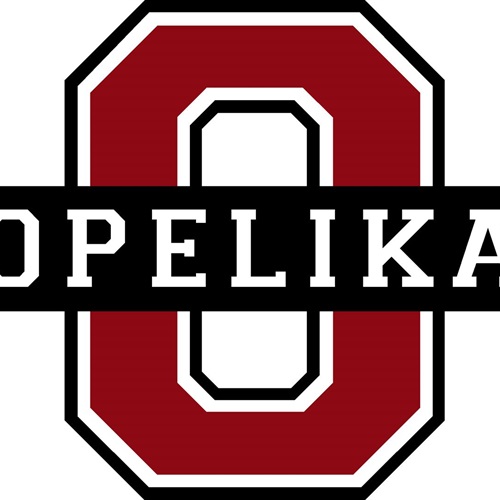 By D. Mark Mitchell
The Opelika High School Bulldog football team (1-0) defeated Callaway of LaGrange 10-7 last Thursday night at Bulldog Stadium.
Opelika scored with 9:16 left in the first quarter after recovering a Callaway fumble at the Cavalier 30-yard line. Four plays later, Nate Evans ran three yards for a touchdown.
Baker Rowan added the PAT to give Opelika a 7-0 lead. Callaway turned the ball over four times while Opelika played turnover free. Both teams were assessed multiple false start penalties, delay of game and other mistakes that should improve over time.
The game would remain 7-0 until the 6:42 mark in the third quarter. Senior kicker Marshall Meyers made a 28-yard field goal, extending the lead to 10-0. Callaway scored their only points with 53 seconds left in the game. Auburn commit and Cavalier running back Tank Bigsby scored a TD on a two-yard run to cut the Bulldog lead to three.
Opelika quarterback Brody Davis finished 11-of-22 passing for 87 yards, Nate Evans rushed 12 times for 62 yards, Jamius Mitchell caught three passes for 35 yards while Holloway and Warner combined for 37 yards. Defensively, Jalen Stinson finished with 10 solo tackles, Miles McGhee added nine while Taylor Love, Kory McCoy and Trevon Moore recorded six tackles apiece. Jalen punted five times for a 40-yard average
OPELIKA HOSTS AUBURN
Auburn and Opelika will play a football game for the 93rd time Friday night at 7 p.m. at Bulldog Stadium. Opelika leads the series 46-43-3, but lost 22-15 at Duck Sanford last season.
The Tigers (1-0) enter Bulldog Stadium after beating Wilcox Central 48-0. The game was shortened because of a running clock in the second half after Auburn led 42-0 at halftime. I am not sure one can judge much from the Tiger's win because Wilcox is struggling in football.
Auburn High Coach Adam Winegarden, in his sixth year, is 36-16 overall, including back-to-back 10-win seasons and a two-year win streak over the Bulldogs.
This should be a good old-fashioned, low-scoring defensive game. Both teams play good defense and have some inexperience on offense including both quarterbacks. Opelika has a huge advantage playing in Bulldog Stadium and has some explosive players that can change a game.
I think Jalen will make some big plays, the OHS defense will be stingy and a solid kicking game will equal a Bulldog win.
GAME DETAILS/HIGH SCHOOL RADIO COVERAGE
Opelika fans can purchase tickets at Bubba's Medicine Shop from 8 a.m. to 6 p.m. through noon on Friday and Victory Designs from 9 a.m. to 5 p.m. through noon Friday. Auburn fans must purchase tickets online at www.gofan.co and search "Auburn High vs Opelika." All remaining tickets will be on sale at the ticket window beginning at 5 p.m., costing $8 per ticket.
Fans can listen to the Opelika v. Auburn football game on 97.7 Kicker FM and online at kickerfm.com. Van Riggs begins the broadcast at 6:30 p.m. Following the game, stay tuned for the Encore Rehab High Scoreboard Show until midnight on WKKR.
On Saturday mornings at 8 a.m., listen to the "Orthopaedic Clinic High School Recap Show" on FOX Sports the Game 910 AM or 1310 AM and online at www.foxsportsthegame.com. Listen for your favorite high school football coach on Wednesdays 6 to 9 p.m. on 97.7 Kicker FM and FOX Sports the Game 910 AM and 1310 AM for the "Rice Realty High School Coaches Show," live from Moe's Bar BQ in Auburn.
Listen to the "On the Mark" radio show on weekdays 6 to 9 a.m. on "FOX Sports the Game 910AM-1310AM" and online at www.foxsportsthegame.com. Guests include coaches Doug Barfield, Pat Dye, Larry Gore, Dan Washburn and Joe Wilson, local high school coaches as well as city council recaps from four local mayors.
VOLLEYBALL
The Opelika volleyball team lost their opening match 3-0 at Auburn last week.
The Lady Bulldogs played at Smiths Station last night. The results were not completed at press time. Their home opener is Sept. 5 v. Handley at 4:30 p.m.
D. Mark Mitchell is sports director for iHeart Media, Alabama Dixie Boys State Director and vice president of the A-O Sports Council.