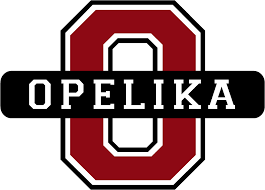 By D. Mark Mitchell
Opelika's Lady Bulldog Basketball Team won the area tournament title last week, beating Russell County 67-47 in the finals. LaDajah Hughley led offensively with 24 points, Kaitlyn Bryant added 18 points while Haley Sanders and Ananda Hughley scored 12 and 10 points respectively.
OHS (25-6) advanced to the subregionals, and hosted Pelham at the Mainstreet Gym on Monday night, winning 82-58. Opelika only led by two at halftime, but outscored Pelham 45-23 in the second half. Four players scored in double digits: Ananda led with 21 points, Bryant and Sanders finished with 15 and Claire Worth notched 13. The Lady Bulldogs will begin regional play at Garrett Coliseum in Montgomery on Friday. They are slated to play Eufaula, however, no time has been set for the game.
INDOOR TRACK AND FIELD
The Opelika High School Indoor Track and Field teams participated in the AHSAA Indoor State Meet at the Birmingham CrossPlex Athletics Complex last Friday and Saturday.
Opelika's boys team finished second in Class 6A with 76 points, 7.5 points behind State Champion Homewood. The OHS girls placed 8th with 20 points, 91 points behind state champion Homewood.
The following Bulldogs received points in the State Meet:
-Jaylen Stinson won the state championship in the 60-meter dash with a time of 6.93.
-Daley Tolbert placed third in the 400 meters, with a time of 50.77; Eric Watts was third in the 60-meter hurdles, running an 8.84; the 4×200-meter relay team won the title with a time of 1:30.10; the 4×400-meter relay team placed third; Watts finished second in the high hump and LaDamien Rowell was fourth; Watts finished second in the long jump and Rowell placed second in the triple jump.
Opelika did not earn points in several events, costing them a team title.
Congrats, OHS Boys Indoor Track Team!
GIRLS
The following girls earned points for Opelika:
Breckin Gould placed sixth in the 1,600-meter run and fifth in the 3,200 meters; Ansley Jackson placed seventh in the high jump; Sequoia Williams finished sixth in the triple jump; Priscilla Perry placed fourth in the shot put and Ansley Jackson placed seventh in the high jump.
BOYS
The OHS boys advanced to the sub-regionals after beating Benjamin Russell 59-58 in the area tourney. Brandon Howard led the Bulldogs with 16 points, Marien Warner scored 12 points and Tay Hardnett added 9 points. Unfortunately, Russell County beat Opelika in double overtime 56-52.
Opelika travelled to Pelham on Tuesday night in a sub-regional game. The results were not available at press time.
SPRING SPORTS
Spring sports are about to be in full force. The tennis teams started last week, baseball travels to Beauregard Feb. 15 for a doubleheader beginning at 11 am. and softball opens Feb. 13 by hosting Beauregard at West Ridge.
Opelika's track and field schedule shows two meets so far, March 13 at Homewood and one on March 19.
I will update you when Opelika will begin hosting home meets at Sam Mason Track on the OHS campus.
D. Mark Mitchell is sports director for iHeart Media, Alabama Dixie Boys State Director and vice president of the A-O Sports Council.