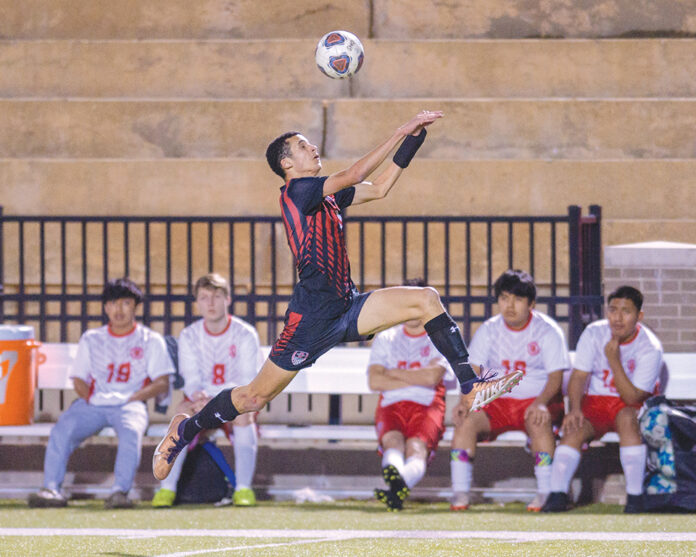 BY DANIEL LOCKE
FOR THE OBSERVER
OPELIKA —
February is upon us, which means spring sports are starting to get underway in Lee County. The Opelika High School boys soccer team is among the teams that have already gotten their seasons underway. After earning a 10-8 record last year, the Bulldogs, under the leadership of head coach Derek Hovell, are looking to build on that with a solid showing in 2023.
Moving to 7A this year presents challenges, but this Bulldog team welcomes them. The schedule will be tougher than in past years, but the Bulldogs are excited to take on a fresh set of opponents.
Hovell said there are three new area games on the schedule that excite him most: Smiths Station, Central Phenix City and Auburn.
"We have to play those teams twice now because we moved up to 7A Area Four," he explained. "Those are obviously the games that you need to win to move on to the playoffs."
The Bulldogs' roster provides a good amount of experience because of the number of seniors that make up the team. According to Hovell, this has the potential to be a difference-maker for the Bulldogs.
"We have several really good seniors this year," Hovell said. "Luke Roberts — he's a guy that's playing a little bit of midfield and defense at the same time. Nathan Faison — he's been in literally every position on the field except goalkeeper; he's going to play a huge role for us. But our two strikers that were also two of the leading goal scorers last year, Moe Forbes and Dexter Graham, we have those guys back up top. I would expect those four to play huge roles."
A change in goalkeeper is one of the most notable differences in the Bulldogs' lineup going into this season.
"We have a new goalkeeper this year; his name is Eduardo Moran," Hovell said. "He didn't play with us last year at all and is now stepping into a starting role and has done great."
Despite having a slew of returning players, Opelika will be without two of last year's biggest contributors — all-state players Ethan Nieman and Said Rujana.
"We had an all-state player at center back last season, Ethan Nieman," Hovell said. "His junior year, he was selected to the all-star game in Montgomery. That's obviously one leader that's left the defense. We also lost a three-year starter, Said Rujana. So, we've lost two key leaders from last year's team."
While playing in a new classification brings plenty of new challenges, as well as opponents, this season will be a crucial time for the Bulldogs to adjust to playing at a higher level.
"Scheduling-wise, you're scheduling extra games with those teams that you used to just play once a year," Hovell said. "This year for our schedule, we went ahead and just went all out. Over half of our games are 7A opponents because we know that's what we're going to have to play to get to the goal of a state championship, so we started scheduling 7A schools."
The Bulldogs have started their season 2-0, with wins over Eufaula and Trinity Presbyterian.
Stay tuned for a preview of the Opelika girls soccer team's season next week.