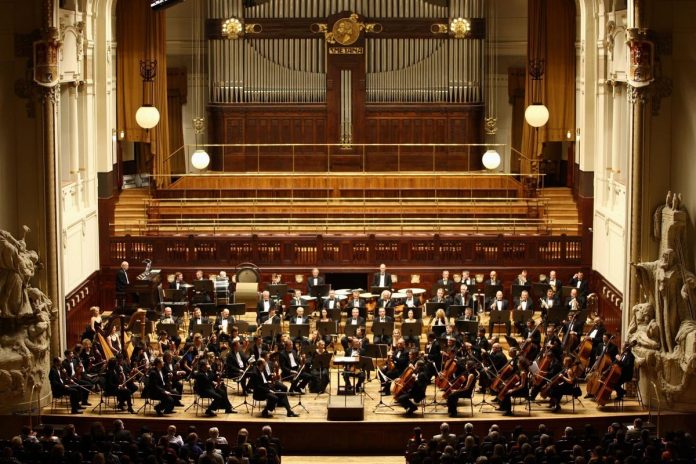 Special to the
Opelika Observer
The Czech National Symphony Orchestra will perform at the Opelika Center for the Performing Arts Feb. 18 as a part of its national tour.
Led by Conductor John Mauceri and mezzo-soprano Isabel Leonard, the orchestra will celebrate the legacy of Leonard Bernstein with a program of "100 Years of Leonard Bernstein."
Mauceri is a longtime American composer, conductor and educator. Leonard is critically acclaimed for her performances of Bernstein repertoire, joining the orchestra in a glorious marking of the world renowned American composer, conductor, and pianist's 100th birthday celebration.
Tickets range in price from $25-49 can be pre-ordered by East Alabama Association for the Arts box at 334-749-8105 Monday through Friday from 10 a.m. – 2 p.m. or by visiting www.eastalabamaarts.org. Showtime is set for 7:30 p.m.
The OPAC is located at 1700 Lafayette Parkway, across from Southern Union State Community College.
About the Czech National Symphony Orchestra
Celebrating its 23rd birthday in 2016, the orchestra has gained a position among both Czech and Europe's top symphonic ensembles. Renowned for its versatility, the orchestra annually presents a broad program ranging from classical music concerts through contemporary genre, film scores, jazz or musicals. In its new era, The Czech National Symphony Orchestra is also organizing summer Prague Proms Festival which annually attracts the audience for presenting greatest international performers. Such composers, conductors, and performers as Ennio Morricone, Lalo Schifrin, James Morrison, Pino Donnagio, Giuliano Taviani, or Steven Mercurio repeatedly come back to Prague to either record with the orchestra in its studio or perform in the beautiful Smetana Hall of Prague's Municipal House, the home concert stage of the orchestra.
Besides concerts in auditoriums and concert halls, the orchestra has accompanied some of the most important pop artists of our time, among them Andrea Bocelli, Sting and George Michael. Successful tours have taken place over the British Isles, France, Germany, Spain, Dubai, Japan, Korea, China, Mexico, Australia and New Zealand. Among the highlights of the last concert season undoubtedly belonged the collaboration with Vince Mendoza, one of the best contemporary crossover conductors, and world renowned trumpet player Randy Brecker. On the classical field, the orchestra renewed its longtime cooperation with Andrea Bocelli. Launched in the spring 2013, a European concert tour of Rolando Villazon has been accompanied by the CNSO.
The Czech National Symphony Orchestra was established in 1993 by trumpet player Jan Hasenöhrl. A spiritual father at the birth of the CNSO was the legendary conductor Zdenìk Košler. In the year 1996, the American Paul Freeman took over as Chief Conductor, and remained in this position for fantastic ten years. At the beginning of the year 2007, Maestro Libor Pešek was named the Chief Conductor and he still remains at this position today.