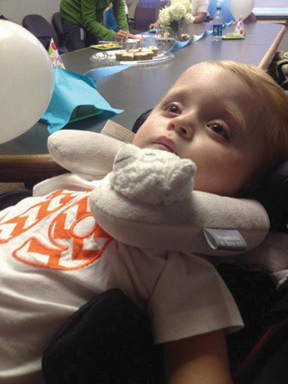 Photo Special to the Opelika Observer
Porter and his friends at the Scott-Ritchey Research Center celebrated his 19-month birthday Tuesday with cupcakes and balloons. 
By Alison James
Associate Editor
Porter Heatherly's parents, Sara and Michael, know their time with him is limited. But with the heartfelt help of researchers at Scott-Ritchey Research Center at Auburn University's College of Veterinary Medicine, getting him the care he needs is just a little bit easier.
"The involvement with the vet school is very comforting to us, more than anything," said Sara Heatherly. "We have someone who knows about Porter's disease and what he'll go through."
At 4 months old, Porter was diagnosed with GM1 gangliosidosis, a rare disorder that affects one out of every 100,000 or 200,000 newborns, according to the U.S. National Library of Medicine.
Trisha Beadlescomb was just another master's student studying the disease in cats until she met Porter's parents through her mentor.
"We all found out we were from the same hometown," Beadlescomb said. "We realized we were from Cullman."
With that common ground, Beadlescomb said she felt drawn to do more for the Heatherly family of Opelika.
"I've been in research for five years – since I've been at Auburn – and I've never met a child with the disease," Beadlescomb said. "It made me want to do something to help out."
Through the Scott-Ritchey Research Center, Beadlescomb is heading up the third fundraiser for Porter – a raffle for a seven-day stay at a beach house in Gulf Shores. Tickets are $10 for one or $15 for two and can be purchased through April 28.
"East Alabama has set up a fund for him; it actually goes to any child who has GM1, but since he's the only one in Alabama, it all goes to him right now," Beadlescomb explained. The fund, available through the EAMC Foundation, can be accessed by the Heatherlys for any medical costs Porter needs.
Porter is the only child in Alabama who has the rare disorder, and Heatherly said that makes dealing with his condition even more unpredictable.
"We don't know exactly what to expect," Heatherly said. "He might require other types of machines that we don't have yet but probably will need in the future based on what we know about the disorder … It just alleviates a lot of stress on us (to have more funds available.)"
Currently there is no treatment for the rare condition. Unless you're a feline – which is what gives Beadlescomb hope.
"A untreated cat only lives about eight months, but we have a treated cat that's been living over four years," Beadlescomb said. "I know how well the cats are doing, and there's only one more step that needs to be done before it's in human trials, and that's working with non-human primates, like monkeys … And if the cats are doing so well, then I have no doubt humans are going to do that well."
Although Porter likely won't see the day that treatments are made available to humans, taking it one day at a time are the things that keep the Heatherlys going.
"We've been dealing with it for a while," Heatherly said. "It's more of a reality. It's day to day stuff. If you stop and think about all the stuff … it can get overwhelming.
The support from Beadlescomb and the research center is also invaluable.
"It's just a blessing to us – it really is," Heatherly said. "It's hard to put into words what it means."
So far 317 tickets have been sold – far outstripping the original goal of 150. With a new goal of 500, Beadlescomb said the winner will be contacted by phone and email and have 24 hours to claims the prize. The trip may be booked between September 2014 and March 2015, excluding any dates already booked and Nov. 22-9 and Dec. 20 through Jan. 3.
For more information or to purchase a ticket, call or email Beadlescomb at 256-339-1032 or pmb0007@auburn.edu This e-mail address is being protected from spambots. You need JavaScript enabled to view it .