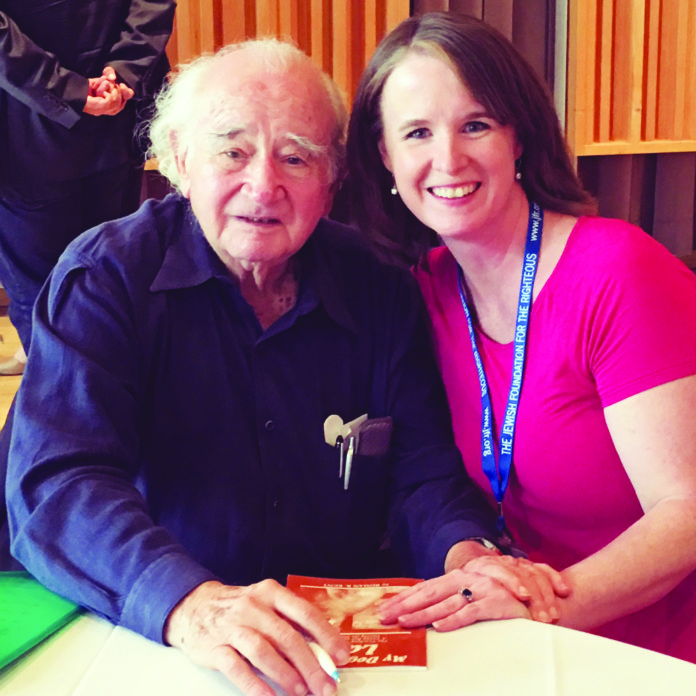 By Fred Woods
Editor
Reportedly, General (later president) Dwight D. Eisenhower, speaking to media correspondents just before they were allowed to visit the first of the newly liberated Nazi concentration camps in 1945 told them to take as many pictures as they could, to get it all on the record as best they could because the day would come, somewhere down the line, when some would try to deny that the Holocaust ever happened.
We know that already there are some current world figures who deny that it ever happened. It won't happen in Opelika, though, not if Tricia Skelton has any say so in the matter. Skelton, an Opelika Middle School teacher for the past six years and a veteran of 22 years in the Opelika City School System, has spent time two summers in a row gaining additional knowledge about the Holocaust which she incorporates into her teaching curriculum for her sixth-grade class.
Last year Skelton and a colleague completed a three-day workshop for teachers at the United States Holocaust Museum in Washington, D.C., that gave them tools and teaching materials to bring Holocaust education to their classrooms.
This year Skelton was one of only three Alabama teachers to be selected as Alfred Lerner Fellows to participate in the prestigious Summer Institute of the Jewish Foundation for the Righteous on the campus of Columbia University in New York City.
For four days, the Fellows heard from three to four Holocaust scholars speaking on various aspects of the Holocaust — reasons for anti-Semitism, history of the Holocaust and rescue. There was also time for discussion among Institute participants about ideas for incorporating knowledge gained into teaching curricula back home.
Skelton said this was one of the strengths of the program, saying, ''Not only was it so great to hear from these scholars but to discuss plans for using the knowledge gained back home with our students with outstanding teachers from across the country was invaluable."
Her most memorable experience of the entire Institute was meeting and hearing from Roman Kent, a survivor of Auschwitz and several other lesser-known concentration camps. Kent, a Polish Jew who came to the United States after his rescue from Aushwitz under provisions of the Displaced Persons Act, regularly speaks of his experiences.
She came away from the session with Kent with two quotes she believes she will never forget: "Never be a by-stander," and "Hate is never right ; love is never wrong." "These will always be by-words for me, says Skelton, " especially the latter. That a person can witness and endure the atrocities Roman Kent has and still say 'hate is never right and love is never wrong sets a goal for us all."
Skelton wants to convey this to her students so that they will better understand, not only the Holocaust, but today's events as well.