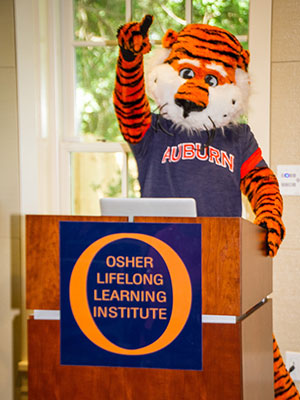 Special to the
Opelika Observer
The Osher Lifelong Learning Institute at Auburn University (OLLI at Auburn) will host its lecture series entitled Wisdom Wednesday's on Oct. 31 from 2:30 – 4 p.m. at the Jule Collins Smith Museum of Fine Art which is located at 901 S. College St. in Auburn.
OLLI members, guests and friends are all invited to learn more about OLLI at Auburn course offerings, social engagements and initiatives.
Sheriff Jay Jones will provide OLLI at Auburn with a presentation titled "The Office of Sheriff—Public Safety's Jack-of-all-Trades".
Jones was born in Kansas City, Missouri, and moved to Montgomery, Alabama, after his first year of elementary school. He attended Montgomery Public Schools and graduated from Sidney Lanier High School in 1972. Jones entered Auburn University in the fall of 1972 and graduated with a bachelor of science degree in criminal justice in 1976. As a senior at Auburn, he began an internship with the Lee County Sheriff's Office, which developed into a full-time position.
Jones has served as a corrections officer, deputy sheriff and investigator. He held the position of the agency's chief investigator prior to being elected as Lee County Sheriff in 1998.
Currently, Jones is serving in his fifth term as Sheriff and is a candidate for re-election in the November General Election.
Jones' professional career also includes the FBI National Academy, National Sheriff's Institute, and FBI Leadership Development Academy.
OLLI at Auburn offers academic not for credit programs for adults aged 50 years or older through program sites at Auburn University, AUM in Montgomery and the Chambers County Public Library in Valley.
OLLI at Auburn is a program of the Office of the Vice President for University Outreach at Auburn University. OLLI administrative offices and select classes are located at the historic Sunny Slope property, which is located at 1031 S. College St.
For more information regarding this event or if one would like to assist the organization as a volunteer faculty member, volunteer service assistant, or sponsor, contact Ileeia A. Cobb, Ph.D., OLLI Director, by calling 334-844-3105, emailing olli@auburn.edu, or visiting www.olliatauburn.org.