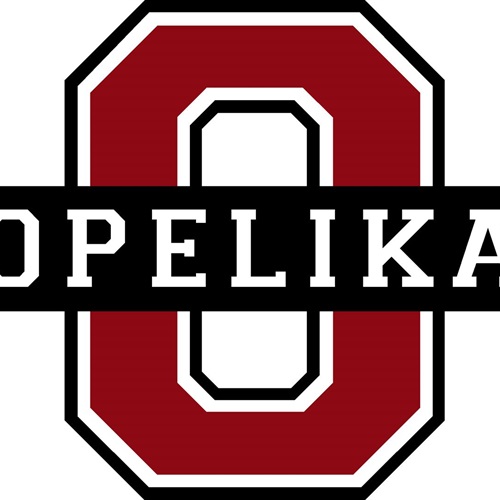 By D. Mark Mitchell
Opelika High Principal Dr. Farrell Seymore will succeed former Beauregard High School Principal Richard Brown on the Alabama High School Athletic Association's Central Board of Control, the organization's governing body. Seymore will assume the position representing District 4 on Aug. 1.
Seymore will join Dadeville High School's Assistant Principal Pamala Holloway on the board. He served on the AHSAA's Legislative Council for many years. The CBC votes on all rules relating to the Alabama High School Athletics Association. Seymore becomes the second member of the Central Board from Opelika, joining Opelika Junior High School Principal William "Bill" Parker, who served in the 80s.
Congratulations Dr. Seymore!
Honoring 'Roc' Thomas
The Opelika Parks and Recreation Department held a ceremony last Thursday at Covington Recreation Center, renaming the departments summer basketball league "The Roscoe Thomas Summer Basketball League." An OHS graduate, Thomas passed away unexpectedly in January 2018.
Thomas was an avid player and basketball fan. He was an extremely good player at Opelika Middle and Opelika High schools, earning a scholarship to play junior college in Texas, then Troy State.
Thomas worked at the Covington Recreation Center, supervising in the evening and helping when needed. Known as "Junior Boy" and "Roc" to his friends and family, he was a close friend of mine. He enjoyed all sports, most of all Opelika's sports. Thomas kept up with football, basketball, baseball, Softball and track. among others.
Kingston Frazier, from Opelika, revitalized the league several years ago after graduation. Frazier went to the recreation department and lobbied for the league to return. Thomas played in a similar league at Covington Recreation Center after his college career.
I know that Mrs. Thomas is proud of her son. Not many can say their son has a basketball league named in his honor.
AHSAA ALL-STAR WEEK
The Alabama High School Athletic Association is holding All-Star week in Montgomery.
Student-athletes from across Alabama will gather in Montgomery. Teams are divided by North and South.
The AHSAA mandates this as a "dead period" for member schools. The only activities allowed are conditioning and weight lifting.
Football teams continue to prepare for fall practice in August.
BEAUREGARD HIRES PRINCIPAL, BASEBALL COACH
Lee County Schools Superintendent Dr. Mac McCoy nominated Richard Brown Jr to be the Principal at Beauregard High School, with the board approving the hire 5-1–1.
During the same meeting, the board approved Seth Nolen as new head baseball coach.
Richard Brown Jr succeeds his father Richard Brown after 40-plus years as principal.
DIXIE ALL -STARS
The Opelika Dixie Youth, Junior Dixie Boys and Opelika softball played in State Tournaments over the weekend. Because of time, I will provide an update in next week's column.
EAST ALABAMA HIGH SCHOOL MEDIA DAYS
iHeartRadio will hold the second annual "High School Media Days" July 24 to 25 in the Southern Room at SUSCC. The event is presented by the Orthopedic Clinic.
Audio presentation of the event can be found on Fox Sports The Game 910 and 1310 AM, the iHeartRadio app and online at foxsportsthegame.com.
Mitchell is sports director for iHeart Media, Alabama Dixie Boys State Director and vice president of the A-O Sports Council.