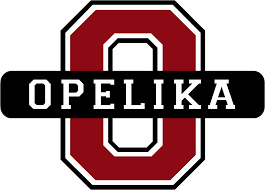 By D. Mark Mitchell
The OHS Indoor Track Team participated in the "Ice Breakers Invitational" at Birmingham's CrossPlex Athletic Facility. The indoor meet drew more than 50 high schools from classes 7 and 6A:
OHS Girls Results:
60-meter dash: India Dowell (31st) and Indiana Holloway (57th)
400-meter dash: Holloway (13th), Raven Johnson (33rd), Jasmine Murphy (41st) and Nylah Ausborn (45th)
800 meter: Breckin Gould (19th), Paola Torres Morales (39th) and Nylah Ausborn (43rd)
1600 meter: Breckin Gould (20th) and Morales (41st)
60-meter hurdles: Nyia Walton (29th)
Triple Jump: Ansley Jackson (12th)
Shot Put: Brianna Barnett (5th), Trinity Love (9th) and Trinity Rooks (24th)
OHS Boys Results:
60-meter dash: Dalen Tolbert (9th), Watts (15th) and Omar Holloway (32nd)
400-meter dash: Dalen Tolbert (9th), Watts (22nd) and Omar Holloway (32nd)
800 meters: Kyrian Moss (44th), Charles Brewer (47th), Daylen Mills (56th) and Jalin Aikens (75th)
1,600 meters: Charles Brewer (24th) and Daylen Mills (84th)
60 meters: Watts (6th)
High Jump: Watts (6th)
Long Jump:LeDamien (1st), Watts (5th ), Omar Holloway (9th), Marcus Tyson (41st) and Ansley Jackson (19th)
Triple Jump:LeDamien Rowell (5th)
Pole Vault: Terrian Battle (17th) and Steven Harvey (18th)
Shot Put: JaKaia Stephens (16th), LaJaden Tolbert (23rd), Montea Hutchinson (42nd) and William Garner (45th)
The indoor team will participate in the "Last Chance Meet" Jan. 31 in Birmingham.
BASKETBALL
The OHS Lady Bulldog Basketball team (17-5) won two area games last week. The two wins means Opelika is one area win away from wrapping up their eighth- straight area regular season championship and hosting the area tournament.
Opelika started the week in Seale, beating Russell County 68-51 behind four players scoring double digits. Ananda Hughley led the team with 20 points followed by Haley Sanders (17), Claire Worth (12) and Kaitlyn Bryant (10).
The Lady Bulldogs travelled to Alexander City Friday night, beating the Wildcats 50-32. Worth and Hughley scored 15 and 12 points respectively in the win.
Coach John Wadsworth and his boys team split area games on the road last week, losing at Russell County 52-40 and beating Benjamin Russell 50-48.
Opelika's Rashad Frye scored a game-high 12 points against the Warriors while teammate Brandon Howard added 7 points.
The boys bounced back in Alexander City, beating the Wildcats 50-48 behind a Ja Carr three pointer at the buzzer.
Carr led the Dawgs with 13 points, followed by Brandon Howard's 12 points and Jamius Mitchell's 8 points.
The two teams hosted Central Tuesday night but the results were not available at press time. OHS travels to LaFayette Thursday, with JV boys starting at 4:30 p.m. followed by the varsity boys and girls.
OCS COACHING SALARIES/SUPPLEMENTS
We all know it costs money to run an athletic department in middle and high school. Coaches work long hours and some are not paid minimum wage if you add the hours work and divide the amount paid.
The Opelika City School System spends more than $450,000 on coaching salaries, supplements and volunteers. The amount includes athletics at OMS and OHS, but not include teaching salaries or other salaries. Opelika City Schools CFO Chris Harrison recently sent the cost of each sport for the 2019-20 school year.
During the next several weeks, I will go over salaries and supplements allowed in each sport, male and female.
Opelika Middle School spends $125,190 while Opelika High School spends $327,384 on coaches including athletic directors. Obviously, OHS football is the most expensive sport for OCS, with 25 supplements for the 9th grade team, junior varsity and varsity. Golf is one of the least expensive with a $3,200 supplement. I will expand in next week's edition of "On the Mark."
WRESTLING
Opelika's wrestling team participated in the 6A AHSAA Region 3 Dual Tournaments in Pell City. Region 3 consists of Benjamin Russell, Oxford, Pell City, Russell County and Opelika.
In a duals Tournaments wrestle each other, similar to a round robin. The Dawgs finished 1-3 as a team, beating RCHS.
Individually, Opelika's top performers were James Dawson 3-0 with 3 pins and Ben Daughtry finished 4-0 with 3 pins.
T'Hara Brunson went 2-2 with 2 pins and Jackson Shoemaker finished 1-1.
Daughtry and Dawson were recognized as 6A Area All-Region in their weight class.
Opelika host Central Thursday in the Mainstreet Gym on the OHS Campus starting at 5:30 p.m.
D. Mark Mitchell is sports director for iHeart Media, Alabama Dixie Boys State Director and vice-president of the A-O Sports Council.