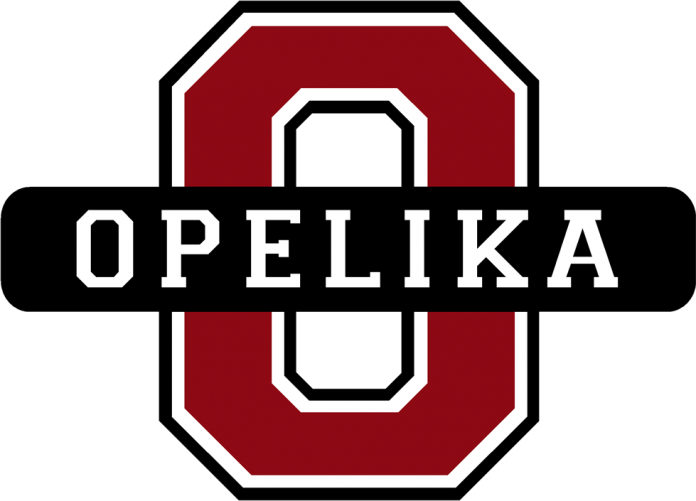 By D. Mark Mitchell
Opelika City Schools Superintendent Dr. Mark Neighbors announced the hiring of Mike Pugh as Opelika High School's next athletic director last Thursday.
Pugh returns to OHS, where he served as head basketball coach for seven years.
Most recently, Pugh was the head basketball coach at Huntingdon College in Montgomery for 10 years. Prior to joining Opelika, he led Selma-Southside High School to three-straight Final Four appearances and spent several years at Enterprise Community College as head basketball coach and athletic director.
Neighbors said he was thrilled to have Pugh join the school.
"We are extremely excited to have Mike back in our program as athletic director. We think he brings a wealth of knowledge and experience to the position," Neighbors said. "I think Mike is exactly what we needed. He has been around high school, college and Opelika."
During his 40-year career, Pugh has coached other sports besides basketball, including football, baseball, golf and track.
Pugh, who retired in 2016 and moved back to East Alabama, said accepting the job was an easy decision to make.
"It's been over a year, (and) I miss the kids and the relationships. When you're a coach, it's a calling like being a doctor or a salesman," Pugh said during an appearance on the 'On the Mark' radio show. "I can't wait to get started as Opelika's athletic director. What an honor. I hope my 40 years of coaching experience will help our coaches and students continue to be successful on and off the field. Opelika has the best facilities and plenty of support. The pieces are in place, I hope to keep improving."
Mike and his wife Suzanne have five children and eight grandchildren.
HISTORIC MOVE AT OHS
Pugh's hire is a historic move by OHS. Most, if not all of the former OHS athletic directors were involved with football. Erik Speakman was the first athletic director who was not a head football coach.
Naming Pugh as the athletic director is a strong and wise decision, regardless of the sport he coached. It is also interesting that he was hired from outside of the staff currently at the high school.
It is time to close the 2017-18 school year. As we move toward the start of the 2018-19 school year, it is important all Opelika supporters and fans unite. The current OHS student athletes deserve the best, and I personally believe our athletic department, including coaches, are some of the best in Alabama.
OHS CHEERLEADERS 2018-19
OHS Cheer Coach Lane Landers released the names of the 2018-19 cheerleaders:
JUNIOR VARSITY
Abbie Bagwell, Bianca Brown, Taylor Davis, Mackenzie Hankins, Benet Harris, Braxton Harris, Railey Jones, Lindsie Klepper, Lauren Landry, Jordan Nolen, Alexis Parker, Orah Preston, Sarah-Grace Smith and Meriambi Stroer.
VARSITY
Mascots: Davis Samuels and Khadijah Woods
Ally Anthony, Bethany Bledsoe, Carlia Boys, India Brooks, Bailey Carlisle, Kyla Chapman (co-captain) , Laura Tyson Daffin, Jailyn Dixon, Taylor Brooke Dudley, Rachel Hamilton, Whiley Jones (Captian) , Lily Kucik, Jamiya McDougald, Danielle Nichols, Kennedy Norris, Carmen Nunn, Maggie Stoeckel, Hannah Wilson, Caeson Woodall and Captain Kalyn Yountz.
OPELIKA HIGH CAMPS
The OHS baseball, wrestling and girls basketball teams are holding summer camps. For more information, call the high school at 334-745-9715.
EAST ALABAMA HIGH SCHOOL FOOTBALL MEDIA DAY
The first 97.7 Kicker FM High School Football Media Days, sponsored by Orthopedic Clinic, will be held in the Southern Room on Southern Union State Community College's Opelika campus July 25-26. The two-day media event will start at 8 a.m. and end at 1 p.m. each day. Thirteen area high school football teams will attend, including Auburn, Beauregard, Beulah, Central of Phenix City, Dadeville, Lafayette, Lanett, Lee Scott, Loachapoka, Opelika, Smiths Station, Springwood and Valley. A head coach and a player will represent each school for a 30- minute question-and-answer session with the media. Fans can listen live on WTLM 1520 AM or online at WTLMam.com and can also watch live on the Kicker Facebook page.
D. Mark Mitchell is sports director for iHeart Media, Alabama Dixie Boys state director and vice president of the A-O Sports Council. He can be followed on Twitter at VOICEOFTHEDAWGS.