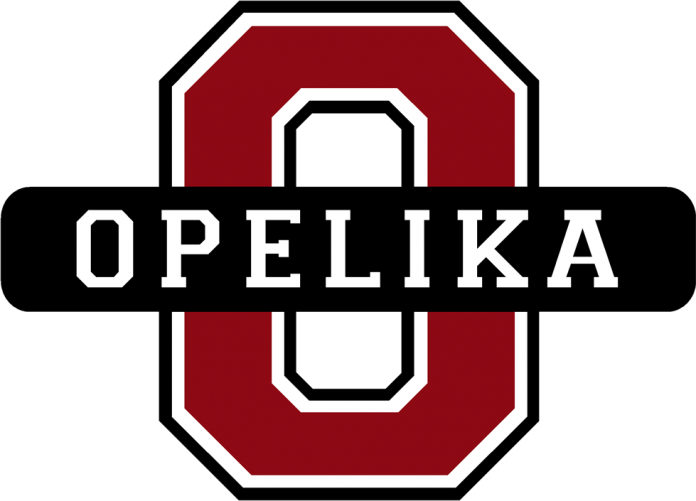 By D. Mark Mitchell
The Opelika High School football team continues to hold its spring training, which will culminate with a spring jamboree game against Saturday at Troy University's Veterans Memorial Stadium v. Niceville High School of Florida.
This is the third head coach for the seniors, who have played under Brian Blackmon, Caleb Ross and now Erik Speakman.
Speakman, previously the team's defensive coordinator, has provided a sense of continuity for the program moving forward.
The team returns about half the starters on both sides of the football.
Special teams, however, will be undergoing major adjustments. Punter, placeholder, kicker and kickoff specialist are all positions that need to be filled.
Like every year, key players graduate, which allows underclassmen a chance to step in a play.
No matter what Saturday's results may be, one fact is for sure: Opelika always plays good football in the fall.
OPELIKA ALL-SPORTS BOOSTER CLUB
As president of the Opelika All-Sports Booster Club, I wanted to provide an update on how the organization continues to provide crucial financial support for Opelika Middle and High School Athletics.
The ASBC raises money through its corporate sponsor plan and ad sales for the sports program.
All of the money raised by the All-Sports Booster Club is kept in an Opelika City Schools account.
This past school year, the  ASBC raised more than $114,000, a $17,000 increase from the 16-17 school year.  The club's main priority is to assist all sports financially and provide other support as requested.
They are also responsible for the football/athletics programs, which are printed in the fall and sold at football games.
There are two basic ways the club distributes the money.
Each year, the ASBC transfers money to each sport based on the size and needs of the sport.
Following are some of the sports and the
amounts that they received from the All-Sports Booster Club: OMS Athletic Department, $6,000; Bulldog Pride Cheerleaders, $1,500; OHS boys and girls basketball, baseball, softball and wrestling received nearly $2,500 each; boys and girls cross country, $2,300 each; swimming, $1,500; OHS boys and girls soccer, $1,900 each; boys and girls track, $1,700, boys and girls tennis and volleyball, $1,500 each.
The coach of any sport can submit a request to the ASBC for additional money, if needed. The request is sent to the president, who sends the request to all ASBC Board of Directors for a vote. Most of the time, the team will receive their request.
The following are a few of the additional requests from coaches this school year that were approved: $5,000 for new uniforms and two new mascot costumes for the cheer program; $6,000 for both the boys and girls track teams to cover their cost of lodging for three nights in Gulf Shores; covered the cost of lodging for the wrestling team's trip to the state meet in Huntsville and new practice and game soccer balls for both girls and boys teams.
The people and businesses in Opelika and surrounding are kind to Opelika athletics. Year after year, folks continue to buy corporate sponsorships and donate to the booster club.
There is no question that the ASBC plays a vital role in OCS athletics.
OHS FOOTBALL SEASON TICKETS
OHS announced football season tickets for the 2018 season will go on sale July 30 through August 3, from 3:45-6 p.m. in the lobby of the Opelika Performing Arts Center. This is for current season ticket holders only.
New season ticket sales can be purchased August 7 from 4-5:30 p.m..
The cost of a Season ticket book is $28. OHS student season tickets cost $24.
D. Mark Mitchell is sports director for iHeart Media, Alabama Dixie Boys state director and vice president of the A-O Sports Council. He can be followed on Twitter at: VOICEOFTHEDAWGS.