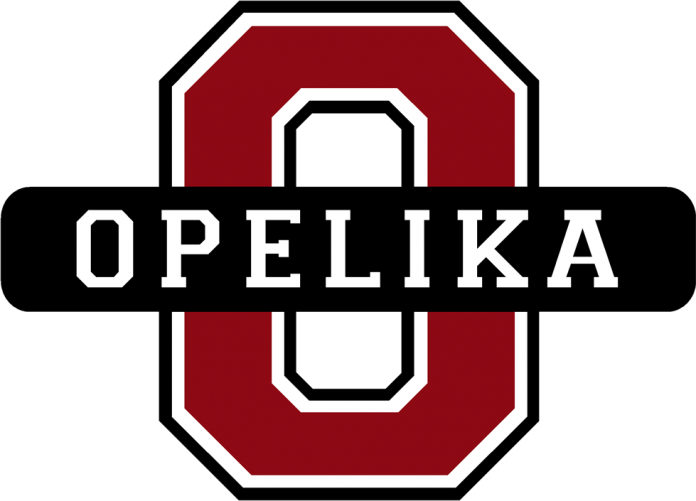 By D. Mark Mitchell
The Opelika High School girls and boys track and field teams traveled to Gulf Shores last Wednesday to participate in the 2018 AHSAA 6A State Track and Field State Championship Meet.
The girls finished 11th with 23.75 points while the boys scored 58 points to capture 4th place. Homewood High School of Birmingham won on both sides. Opelika's highlight moment came when Jayson Davis won the first pole vault championship in school history.
Following are the results for the Bulldogs.
GIRLS
Lazoria Yancey, third in the shot put with a throw of 37-3 and sixth in the discus; A'Nyiah Huguley placed fifth in the javelin with a throw of 114-8; Imani Debrow was sixth in the javelin with a throw of 112-2, eighth in the triple jump and 12th in the high jump and Nikera Durr was sixth in the 400-meter dash.
BOYS
Jayson Davis led the Dawgs by winning the pole vault championship; Jaylen Stinson was second in discus and third in the 100 meters with a time of 10.70 seconds; Jorden Heard was third in the high jump with a jump of 6'6″; Blake Landers placed sixth in the discus and Jerrell Stinson was fifth in the 400-meter dash.
The Opelika track and field teams continue to prosper on the track. The newly renovated track will allow the Bulldogs to host sectional and season meets, which will help cover the cost of running a top-notch 6A program.
BASEBALL CAMP
Opelika Baseball Coach Nick Richardson will hold "The OHS Bulldog Summer Baseball Camp" June 5-7 from 8 a.m. – noon each day for 75 children ages 7-12. The cost is $100 per camper, and a $50 deposit required at time of registration. Richardson asks participants to register by May 26 by mailing your $50 deposit to: "OHS Baseball, 1700 Bulldog Parkway, Opelika, Alabama 36801." The remaining $50 can be paid on the first day of camp.
"The baseball camp offers, positive, safe, fun, and educational experience for young players to enhance their knowledge and experience from our highly qualified staff," Richardson said.
Camp participants will play games at the end of each session. The players are asked to bring sunscreen, a glove, bat and helmet.
For more information, email Richardson at nick.richardson@opelikaschools.org.
SPRING FOOTBALL
Opelika Coach Erik Speakman began his first spring training as head coach Monday. The 18-year assistant will practice for nine days and travel to Troy May 26 for a spring game against Niceville High School of Florida. The Bulldogs have several positions to fill following the departure of key outgoing seniors.
However, the offense will return skill players like quarterback Cade Blackmon, running back Branton Barnett and Kani Kellum. The offensive line, will be breaking in new players.
The defense must replace several major contributors as well.
Special teams needs include a kicker and kickoff specialist.
There have been a few changes to the coaching staff. Jonathan Chandler remains as offensive coordinator. Speakman promoted Adam Massey to take over his position as defensive coordinator. There could be an addition to the staff before fall practice.
ON THE MARK
You can keep up with Opelika athletics on a daily basis by listening to "On the Mark" on the radio weekdays from 7-9 am on WTLM 1520 AM and online at wtlmam.com/listenlive.
Follow me on Twitter @VOICEOFTHEDAWGS.
D. Mark Mitchell is sports director for iHeart Media, Alabama Dixie Boys State director and vice president of the A-O Sports Council.