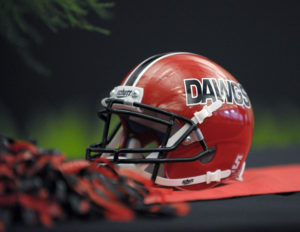 By D. Mark Mitchell
The 14-9 Opelika baseball team won four games last week during spring break. The Bulldogs beat Smiths Station 13-2, Marbury 18-6 and Stanhope Elmore twice, 13-0 and 16-5.
During the four-game span, Opelika scored 60 runs and slugged 56 hits.
Coach Nick Richardson's team opened the week with a 13-0 mercy rule win over Stanhope Elmore. Freshman pitcher Jacob Blackmon made his first varsity start, pitching five scoreless innings, allowing one hit, two walks and struck out five to earn the win. Jared Willis led the offense with three hits, followed by Micah Christian and TeKeal Demunn, who added two hits apiece. Jarred Bartlett, Jackson Craft, Brody Davis and Latrelle Gullate each added singles.
Opelika beat rival Smiths Station 13-2 in another mercy-rule game that lasted five innings. Pitchers Andrew Parr and Hoony Oh combined for the win on the mound. Four Bulldogs slugged two hits apiece, T.J. Jones, Bartlett, Christian and Demunn.
Opelika beat Stanhope Elmore 16-5 for the second win over the Mustangs in one week. Christian earned the win, pitching five innings. Will Ingram pitched the final two innings. Bartlett led the offense with four hits. Jackson Craft added three hits while Jones, Parr, Colton Dunson and Gullate each added hits.
In the final game of the week, Opelika defeated Marbury 18-6. Jones, Bartlett, Christian, Demunn, Parr, Davis and Dunson led the offense with two hits each. Willis and Christian each added singles. Jackson Reynolds earned the win, going 4 and 1/3 innings. Rhodes and Demunn closed out the game.
TRACK
The new track at Opelika is ready for competition but has not yet been used. The Mike Spain Invitational, scheduled for earlier this month, was cancelled. Coach Jimmy Johnson is hopeful to have a home meet in April. Opelika Middle School's track team has no home meet on their schedule. The hope in the coming years is for Opelika to host multiple meets. The track is one of the newest and best in Alabama.
THIS WEEK'S SPRING SPORTS CALENDAR
Tomorrow, baseball will host Wetumpka in an area game, and both the boys and girls soccer teams will host LAMP. The tennis team will host Montgomery Academy at the Bill Calhoun Tennis Center.
Saturday, the baseball team will play a home double-header against Sylacauga.
FOOTBALL
The Opelika High School football team will hold workouts at 6 a.m. April 4, 11 and 18 in preparation for spring practice, which begins May 1. The Bulldogs will practice May 3, 7, 9, 11, 14, 16, 17 and 18. The Bulldogs will travel to Troy University to play Niceville High School of Florida May 19 in the Troy Cable Spring Classic. The OMS spring game will be May 15 at Bulldog Stadium against Long Cane.
The 2018 varsity football schedule has changed. Greenville backed out of a two-game series. This will leave nine games, with four at home (Sept. 7 Selma, Sept. 21 Central, Oct. 19 Stanhope and Oct. 26 Vigor) and five road games (Aug. 24 Callaway, Georgia, Aug. 31 Auburn, Sept. 14 Wetumpka, Oct. 5 Benjamin Russell and Oct. 12 Calera.)
KEEP UP WITH OPELIKA
ATHLETICS
Fans can keep up with Opelika Athletics on a regular basis by going online www.opelikaathletics.com. They can also listen to "On the Mark" on the radio weekdays from 7-9 a.m. on WTLM 1520 AM or by going online to www.wtlmam.com/onair. The show can also be heard on the iHeart radio app.
AHSAA NEWS
The Alabama High School Athletic Association may allow instant replay in the coming season. Nothing is official and no announcement has been made. If this comes true, Alabama will become the first state to add instant replay. Stay tuned for more information.
D. Mark Mitchell is sports director for iHeart Media, Alabama Dixie Boys State Director and vice president of the A-O Sports Council. He can be followed on Twitter at VOICEOFTHEDAWGS.