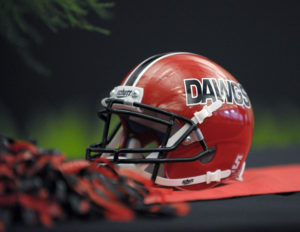 By D. Mark Mitchell
The Opelika Lady Bulldogs softball team split a pair of games last week, beating Beulah 15-1 and losing 11-0 to area foe Benjamin Russell.
Opelika used a solid pitching performance by Makai Gagliano and added 15 runs to win 15-1 in a five-inning mercy rule game. Gagliano struck out four, allowed two hits and one run to earn her third win of the season.
Chloe Clark and Kayla Fourtenbary led Opelika offensively. Clark belted two doubles, a single, scored three runs, walked and added three runs batted in. Foutenbary doubled, added two singles, two RBIs, scored twice and walked. Chelsea Carr added two doubles and three RBIs and Gagliano doubled with one RBI. Tory Baker, Dreamer Denmark, Avery Davis and Daysia Jones each singled.
Coach Tina Deese's team opened area play with a 11-0 loss to Benjamin Russell at West Ridge. Elizabeth Weygand and Clark each singled for our only hits.
BASEBALL
Bulldog head baseball coach Nick Richardson uses the following motto when he creates his team's schedule.
"You play the best if you want to be the best."
Of the Bulldogs' five-game stretch last week, four opponents ranked among the state's top 10.
Opelika used three pitchers, Jackson Reynolds, Andrew Parr and Jared Bartlett, to shutout the Rams, 2-0 at Crestview Field in Fairfax last Monday.
Jared Willis, T.J. Jones, Brody Davis, Micah Christian and Kory McCoy each added singles.
Four local high school rivals, Opelika, Smiths Station, Central and Auburn, hosted the "East Alabama Classic". This a two-day event allows high school baseball teams across the state to travel to East Alabama and play four highly ranked teams.
Opelika opened Friday night with a 13-3 win over Helena. Parr earned the win, pitching six innings, allowing three runs on five hits and five strikeouts. Offensively, Jones led the way with four hits. scored two runs, two RBIs and walked once. Christian, Takeal Demunn, McCoy and Davis each added two hits apiece. Willis, Bartlett, Trent Fields and Jackson Craft all singled.
In the second game of the night, a 1-0 win against Saraland, Reynolds pitched seven shutout innings, striking out 10 with no walks. Two Bulldogs, Bartlett and Christian, added the only hits in the game.
Saturday, Hartselle scored five runs in the third inning to open up a close game on their way to a 9-0 win over OHS. The Bulldogs were only able to get two singles, provided by Jones and Christian.
Theodore beat Opelika 11-7 in the last game of the tournament at Bulldog Park Saturday. The two teams combined for 18 hits, 11 by the Bobcats and 7 by the Bulldogs. Jones continued his hot streak at the plate, adding three hits which gave him nine hits during the tournaments.
As of Monday, Opelika's record stood at 10-9. The Bulldogs will play the third game of a series against Stanhope Elmore tonight in Millbrook.
GIRLS TENNIS
The Lady Bulldog tennis team defeated the Panthers of Smiths Station 8-1 last week. Singles winners included: Sara Hollis Smith T 8-1; Martlynn Grouby 8-3; Readen Gagliano 8-3; Blake Bell 8-3 and Laney McTier 8-3. Opelika swept the doubles, with Grouby/Gagliano winning 8-3, Smith T/McTier 8-2 and Bell/ Victoria Tufts 8-3.
BOYS TENNIS
The Opelika boys tennis team slipped by Smiths Station 5-4. Singles winners were: Conner Pruitt 8-3; Austin Crowley 8-4 and Jack Whatley 8-0. The Bulldogs swept the three doubles matches. Hudson/Pruitt won 8-2 and Crowley/McKay 8-4.
GIRLS SOCCER
The Lady Bulldog soccer team beat Wetumpka 4-0 in an area match. Amiya Brown pulled a hat trick, scoring three goals. Madi Rush added the other goal.
Opelika improved to 2-0 against area opponents.
The girls were shutout 1-0 against Central. Opelika takes a 6-3-2 record into spring break.
BOYS SOCCER
The Opelika boys soccer team beat Wetumpka 4-0 in an important area match. Jafeht Marin netted two goals while teammates Anthony Alba and Jose Cruz added one goal each. Yordi Chavez and Jasson Vasquez each assisted. Braden McKay continues to play solidly at goal keeper.
With the win, the Bulldogs improved to 1-1 in area competition.
Central traveled to the James W. Samford Soccer Complex at the Sportsplex to play Opelika. The Bulldogs trailed 2-0 in the first half before cutting the lead in half after Marin converted a Marshall Meyers penalty kick. Opelika won the game with less than four minutes remaining after Jesus Reyes scored off an assist from Ethan Souphanthong. The boys improved to 7-4-2.
WEEK AHEAD
Opelika City Schools students are on Spring Break this week. Baseball is the only sport playing this week. The Bulldogs hosted Stanhope Elmore and Marbury Tuesday, but results were not available at press time.
The Bulldogs will travel to Millbrook today for two games, against Stanhope Elmore and Marbury. First pitch is slated for 1 p.m.
FOOTBALL NEWS
Opelika will have a nine-game football schedule after Greenville backed out of the agreement to play a two-year home-and-away series. Greenville Coach Josh McLendon said his administration would not allow him to play 6A Opelika, becuase of the disparagement in talent. The game was scheduled for Sept. 21 at Bulldog Stadium. This loss leaves Opelika with four home games this year. The bye week is after playing rival Central and before facing area foe Benjamin Russell.
D. Mark Mitchell is sports director for iHeart Media, Alabama Dixie Boys State Director and vice president of the A-O Sports Council.