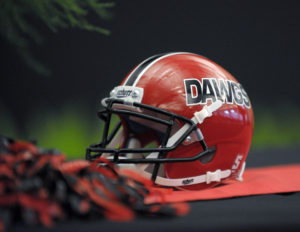 By D. Mark Mitchell
GIRLS
BASKETBALL
The Opelika High School Lady Bulldogs (15-7) Beat Benjamin Russell 62-24 in their first area game last Friday. Head Coach Devin Booth, gunning for her team's sixth-straight area title, said she knew winning the first area game was important. "I️ am proud of this team. No matter who we play, the girls play hard," Booth said following the win.
Anita Payne scored a game-high 15 points while Abrea Green added 10 points.
Opelika defeated Wetumpka 64-31 at the annual MLK Tournament Saturday in Montgomery
Quala Walton scored a game-high 13 points while teammate Amanda Huguley contributed 12 points.
BOYS
BASKETBALL
The Opelika boys slipped by Benjamin Russell 55-54, winning their first area game. Trey Boone scored 13 points, while Jorden Heard and Austin Pitts each added 12 and 11 points, respectively.
The win came at the right time. Opelika has lost several close games this season.
"I am so happy for the kids. These guys are playing hard and lost a few close games," Wadsworth said. "Tonight, we won the close game. Congrats to the kids."
WRESTLING
The Opelika wrestling team participated in the 'Panther Invitational' last weekend.
Following is a list of results for the Bulldogs:
Jackson Shoemaker (106 lb.) scored four points.
Cameron Williams (126 lb.) scored one point.
Tory Birdsong scored 22 points and finished second.
Desmond Shuman (145 lb.) scored 16 points and finished third overall.
Brayden Bell (152 lb.) scored six points,
Timothy Tolbert (160 lb.) scored six points.
Trinity Vaughns (182 lb.) scored 16 points.
Cameron Reese (195 lb.) scored four points.
Micheal Dawson (285 lb. – heavy weight) scored 20 points and placed third.
OPELIKA MIDDLE SCHOOL
BASKETBALL
The OMS eighth-grade basketball team defeated Auburn 34-19 last week.
Jarrell Stinson scored 11 points, Taylor Love, Rashad Frye and Jalin Aikens each scored six points.
FOOTBALL
BANQUET
Head Coach Caleb Ross announced March 1 as the date for the 2017 football banquet.
D. Mark Mitchell is sports director for iHeart Media, Alabama Dixie Boys State Director and vice-president of the A-O Sports Council.