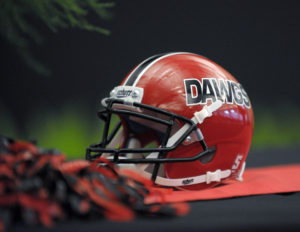 By D. Mark Mitchell
The Opelika varsity wrestling team hosted Wetumpka and Pike Road last week in the OHS Main Street gym.
Opelika beat Wetumpka 39-38 and Pike Road 27-9.
The following wrestlers finished 2-0 and earned 12 points apiece:
Dez Shuman (145 lb); Ben Daughty (170 lb); Trint Vaughns (182 lb); Cameron Reese (195 lb); Bevin Williams (220 lb) and heavyweight James Dawson.
BASKETBALL
GIRLS
Opelika girls basketball team (14-7) defeated Park Crossing 68-27, and Auburn 66-50 last week.
Claire Worth led Opelika with a game-high 15 points while teammate Alexis Browning added 13 points against Park Crossing.
The Lady Bulldogs beat rival Auburn in front of a jam-packed OHS Sports Arena. Five players scored in double figures for head coach Devin Booth.
Quala Walton led the team with 17 points, Claire Worth finished with 14 points, Abrea Green contributed 12 points and Anita Payne and Alexis Browning
each added 10.
BOYS
The Opelika boys basketball team lost a pair of close games this week to LaFayette and Auburn.
The Bulldogs lost to LaFayette 73-64 in overtime and Auburn 53-51.
Opelika held the lead for most of the game before heading to overtime. LaFayette outscored Opelika 13-4 in overtime to win. Jordan Heard scored a game-high 12 points. Bruce King and Tay Fields scored nine points each.
The Bulldogs lost a heart-breaker against Auburn last Friday night. The Tigers scored the go- ahead basket with 2.3 seconds left in the game.
An Opelika player inadvertently called timeout on the inbound pass, stopping the clock with seven-tenths of a second.
Opelika head coach John Wadsworth drew up an inbound play after three-consecutive timeouts.
The players executed the play to free up Jamius Mitchell under the basket. The shot rimmed out as time expired.
OPELIKA MIDDLE SCHOOL EIGHTH-GRADE
BASKETBALL
The Opelika Middle School 8th grade basketball team beat Lanett 57-27 last week.
Jarrell Stinson led the team with 17 points. Greg Bynum scored 13 and Rashaad Frye added nine points.
2018 OPELIKA FOOTBALL
SCHEDULE
Opelika head football coach Caleb Ross has released the 2018 schedule.
The Bulldogs will have five home games and five road games.
Following is Opelika's full schedule:
Aug. 24 – at Callaway
Aug. 31 – at Auburn.
Sept. 7 – v. Selma (R)
Sept. 14 – at Wetumpka (R)
Sept. 21 – v. Central
Sept. 28- v. Greenville
Oct. 5 – at Benjamin Russell (R)
Oct. 12-at Calera (R)
Oct. 19 – v. Stanhope Elmore (R)
Oct. 26 – v. Vigor
D. Mark Mitchell is sports director for iHeart Media, Alabama Dixie Boys State Director and vice president of the A-O Sports Council.